Everything Happening with the Food Game at Horseshoe Casino Baltimore
Everyone loves a jumbo lump crab cake or fries dusted in Old Bay seasoning, but the folks running the food and beverage program at Caesars Horseshoe Baltimore want you to know that B-More grub is about so much more. There are eight -- soon to be nine, with the upcoming opening of Giada de Laurentiis's GDL Italian by Giada -- dining establishments to choose from at the casino, so chances are, Horseshoe has something delicious no matter what kind of craving hits you.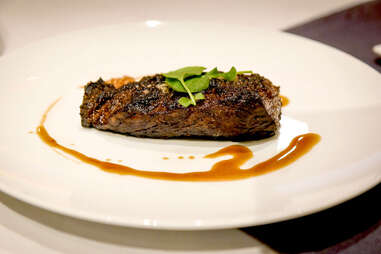 If you want to go upscale, look no further than Gordon Ramsay Steak. The celebrity chef might be known for his searing temper on TV, but the man knows how to run a restaurant. Take the restaurant's beef sourcing program, for example. The restaurant gets its steaks from Roseda Farms, a Black Angus cattle and lamb farm in Monkton, Maryland, about 25 miles north of Baltimore. Those choice cuts of beef are then aged in-house in the restaurant's dry-age display case, a climate-controlled, glass-walled temple to steak. "We are able to have the guests view the primal cuts in all stages of the process and we're proud of that," says Jay Lattimer, the casino's VP of Food and Beverage. "Our newest round of primal cuts being aged are actually aged using Sagamore Rye Whiskey from the Sagamore distillery, just about a mile away from here." And if the baked goods taste extra fresh, that's because they are: Ramsay tapped Stone Mill Bakery, a neighborhood bakery based in Baltimore, to handle the job.
In the mood for something more exotic? Check out Fú Noodle House. The pan-Asian restaurant features cuisine from China, Korea, Vietnam, and more, while still highlighting local flavors and ingredients like the Chesapeake crab in the VIP Roll and B-More Burrito. But it's not just big ducks and pho at Fú. The restaurant's latest big plan is a full-fledged dim sum service, where chefs will whip up bite-sized specialties like pork buns and soup dumplings in-house. "We're getting a massive dim sum steamer and we'll be using the dim sum cart to serve the guests both in the restaurant and at the gaming tables," Lattimer says. Pro-tip for the night owls: The Kimchi Fried Rice with Spam -- yes, that Spam -- is an ode to the power of salty processed meats and goes extremely well with a glass of ice-cold Tyku sake and a hot streak at the blackjack table.
Then there's Guy Fieri's Baltimore Kitchen & Bar. You know that when you step into a Guy Fieri establishment, you're in for something big, bold, and tasty. The spiky-haired Diners, Drive-Ins, and Dives host brought his signature energy to the restaurant's mouth-watering burgers, luscious crab cakes, 24 local craft brews on tap, and huge BBQs where they've started a tradition of spit-roasting a locally sourced hog right in the kitchen. "Guy's open kitchen is perfect for our massive rotisserie," Lattimer says. "We line it up with chickens to roast and we've started roasting whole hogs on it. The view and smell is amazing and guests love it, especially with a local pig roasting away."
Rounding out our list is GDL Italian by Giada, opening soon. Giada Laurentiis, an Italian-born chef and star of the show Giada at Home, is no stranger to feeding hungry gamblers. Her first venture, the fine-dining restaurant Giada, opened in Las Vegas in 2014. Now, she's bringing the same care and attention to Horseshoe Baltimore, but in a more casual manifestation. "GDL will have fresh pasta, made in-house, a fantastic antipasti bar with olives, and amazing meats and cheeses," Lattimer says. If you're, somehow, not in the mood for handmade pasta or colossal amounts of charcuterie, there's also pizza and a generous wine and cocktail program. "It's a place people can come and have a great Italian meal, or have a bottle of wine and great antipasti," Lattimer adds.
Like Gordon Ramsay Steak, GDL's menu is full of locally sourced ingredients, from beef, to fish, to greens, effectively sewing Baltimore into the very fabric of de Laurentiis' new restaurant. "Our main focus is finding the best ingredients we can and presenting them in the best manner," says Executive Chef Brian Drosenos. "For me, it's about making every pasta cut in-house and fresh."
Combing high-quality ingredients with those signature Charm City flavors is what the Horseshoe restaurants excel at, whether you're looking for a juicy burger, a local beer, or international fare with a Chesapeake twist. You've got the rundown, now all there is to do is eat your way through the casino's offerings.