Talenti turns out about 250,000 pints of gelato. Every. Single. Day. That means that one day's worth of production would be enough to cover one person's late night pint snacking habit for nearly 700 years. Just because they're cooking up so much gelato, though, doesn't mean they've forgotten about the details. From determining the right flavors to adapting slow cooking methods at a huge scale, Talenti has taken care to introduce Americans to gelato and sorbetto using many of the same methods Italian grandmas used generations ago. Here's how they do it.
The founder spent years honing his craft
Josh Hochschuler, founder of Talenti, spent five years as an expat in Argentina working in finance -- but he didn't spend his entire time abroad crunching numbers. He also ate a lot of gelato, and fell in love with the stuff. When he returned to the states, though, he couldn't find anything like what he had tasted overseas. So, he nixed the financial career and returned to Argentina to apprentice with a family who had been making gelato for generations in a heladería (or ice cream shop.) What he learned is still incorporated into every jar of Talenti today.
For example: Argentinian gelato uses pure cane sugar, rather than high fructose corn syrup, and is based on generations-old recipes that can be traced back to Italy. They also still use the Bain Marie process that Hochschuler learned abroad. It's a method of slow cooking similar to a water bath, except that Talenti slow cooks its ingredients in milk at a low temperature. The longer the ingredients marinate, the more flavorful the gelato.
There's a reason for the clear packaging
Walk into an Italian gelatoria and you'll see a rainbow of flavors from pistachio to raspberry to lemon -- instantly making your mouth water. If you walked in the freezer aisle at an American grocery store, though, all the ice cream is hidden behind their packaging. At least until Talenti came along. They decided on their transparent, recyclable jars to not only let people get a peek at the gelato inside, but also to invoke those Italian gelatorias. Besides that, the BPA-free jars have also become popular among DIY-ers, who transform the pints into everything from planters to sewing kits.
They use a 6-foot-tall steeper to make some flavors
To get real mint flavor into their Mediterranean Mint Gelato, Talenti begins by steeping actual mint leaves in the milk. That's perfectly simple when you're making a small batch of gelato, but when you're trying to make thousands of pints, it's much harder to accomplish. So, Talenti uses a steeper fit for Paul Bunyan. It's just like the steeper you use at home to make loose-leaf tea, except six feet tall. They now use it to steep the chai tea in their new Vanilla Chai flavor, too.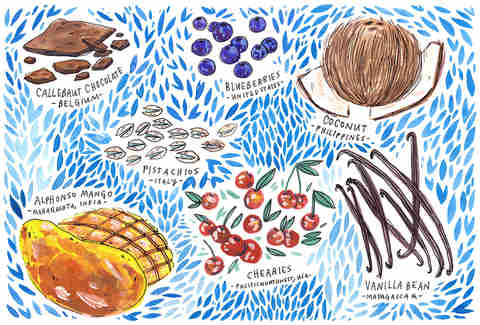 Sourcing their ingredients takes lots of (tasty) research
New dream job: being a chocolate taste tester. Before settling on Belgian Callebaut for their chocolate flavor, the research and development team at Talenti sampled more than two dozen varieties of chocolate from all over the globe. The Belgian Callebaut, they found, had a smooth texture that was ideal for gelato, plus a rich, chocolate flavor.
But it's not just the chocolate. Talenti conducts extensive research to find all of their ingredients. They found Alphonso mangoes from the Maharashtra region of India that weren't just sweet, but also creamy -- which in turn gives the sorbetto a distinctly creamy texture. Talenti uses Italian pistachios that are grown in volcanic soil near the Mediterranean Sea -- and that lava dust has properties that helps the pistachios grow longer, thinner, and greener. That green helps give the Sicilian Pistachio flavor it's coloring, and the pistachios are known for having a slightly fruity taste -- making them highly sought after by chefs around the world.
They release up to six new flavors annually
Talenti already has 40 flavors of gelato and sorbetto in their dessert arsenal. However, every year they work to release as many as six new flavors into their repertoire. Those 40 options were first formed around classics -- for example, Argentina's dulce de leche inspired the Sea Salt Caramel Gelato and Caramel Cookie Crunch Gelato. Classic Italian flavors, like pistachio and hazelnut, were also incorporated. And, of course, the American standbys, like butter pecan.
The research and development team still considers these same factors when narrowing down new flavor options -- plus, of course, market trends. The team focuses on making the best flavors, then narrows them to 25 (!) options. After lots of taste tasting, they choose three to six flavors to bring to market. This year, they've unveiled three new gelatos and a sorbetto: Cinnamon Peach Biscuit, Vanilla Chai, Vanilla Blueberry Crumble and a dairy-free Peanut Butter Fudge Sorbetto.
Some flavors are incredibly difficult to produce
The company's Peanut Butter Fudge Sorbetto doesn't contain any dairy, but is so thick and creamy that they needed to develop a special system for production. The dense sorbetto slows down the procedure, so the peanut butter needs to be added at different points in the mixing process in order to keep things running on schedule. Same goes for its Sea Salt Caramel Gelato: there is so much dulce de leche in it that it takes a long time for operators to physically add it into the mix. They compared it to trying to add 10 cups of flour into a cookie dough -- which sounds strenuous enough to replace arm day at the gym.
A pint of sorbetto can be 50% fruit or more
You would assume that a fruit-flavored sorbetto would contain a lot of fruit. But just how much fruit is actually in a pint of Talenti is pretty astonishing. Each pint of Alphonso Mango Sorbetto contains at least 50% real fruit -- and that's the reason why raspberries or mangoes are listed as the first ingredient in their respective flavors. In fact, the lowest fruit ratio sorbetto is Blood Orange, and even that's 24%! That's a lot of fruit -- so much that the machinery in their production facility is known for getting clogged as real raspberries and mangoes are being made into sorbetto. That may seem like an inconvenience, but Talenti would rather have to take a little extra time than nix the real stuff.
Brought to you by Talenti