Every year hundreds of New Yorkers come out to celebrate the salty, deliciousness of oysters at Empire Oyster, a giant party we throw with Oysterhood. We feature thousands (yes, thousands) of oysters from all over New York and invite key members of the oyster community including unbelievably speedy shuckers, seasoned growers, and oyster-focused chefs. It's always an awesome shucking time. This year we also brought in Long Island's own Blue Point Brewery to pair oysters with brews and cocktails. And even if you missed the event this year, you can still partake in the fun via this very story! Here are all the ways the event showed some serious sea love.
Chefs battled it out to have the freshest oyster dish.
There are few things more sublime than a fresh, salty oyster knocked back raw. We had plenty of those, but we also gave 10 NYC chefs the chance to display their most creative, indulgent oyster creations possible. Then, we asked the crowd to judge. From an oyster with smoked coleslaw and barbecue sauce to an "oyster pancake," these are the tasty takes they came up with:
Recommended Video
The Fasties: Kat Thompson Mukbang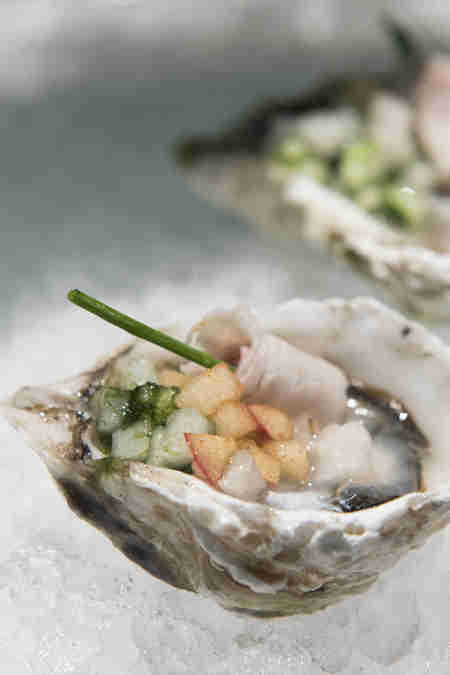 Kumamoto Oyster Salad
Soju Haus
Served with Korean vegetables and sauce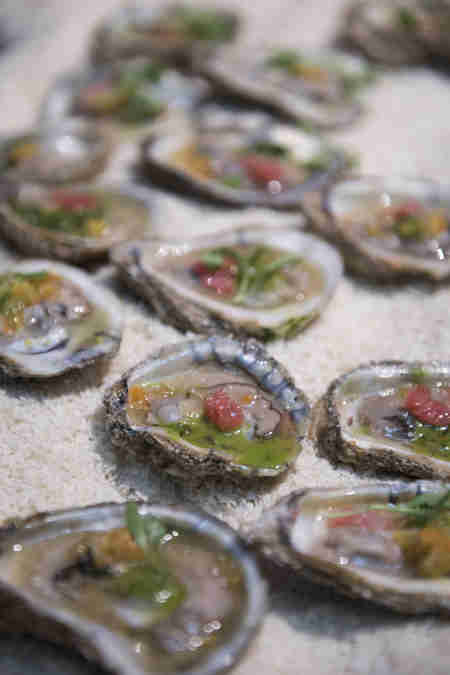 Oyster Ceviche
Swine
Served with pomelo, limoncello, gremolata, and annatto
Smoky Raw Oyster
Schiller's Liquor Bar
Topped with smoked coleslaw, BBQ sauce, and bacon bread crumb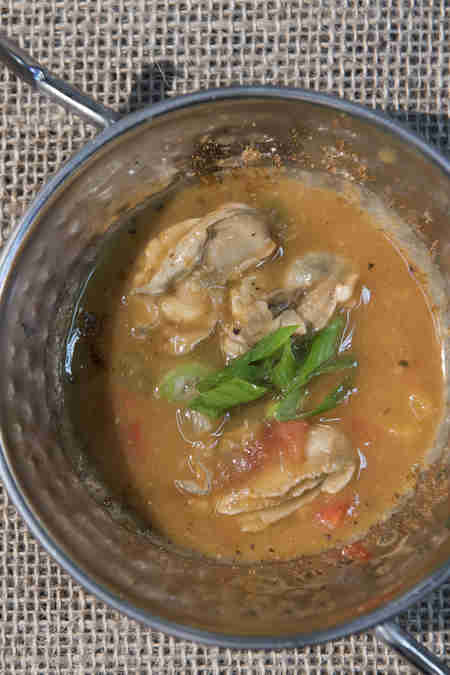 Oyster Ètouffèe
Dock's Oyster Bar
Made with peppers, onion, celery, roasted tomatoes and Cajun shellfish sauce
Grilled Oyster on the Half Shell
Goodnight Sonny
Served with with herb butter and hickory smoke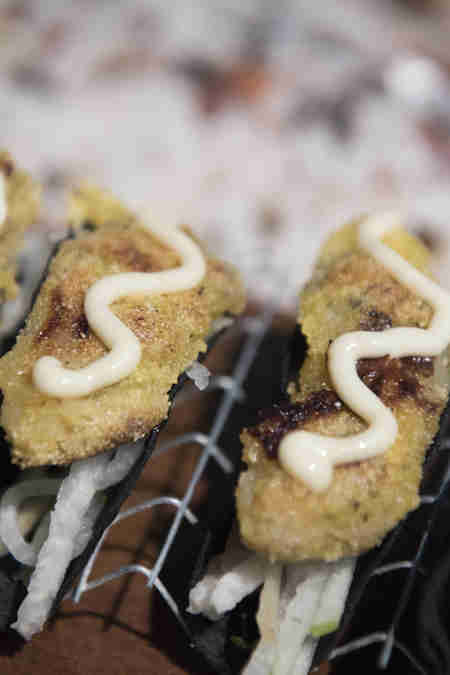 Crispy Oyster Taco
L&W Oyster Co
Smoked and fried Long Island Oyster with apple-Jicima slaw and roasted garlic aioli
Smoked Oyster with Thousand Island Mignonette
Metropolis
Oyster on the half shell with Thousand Island topping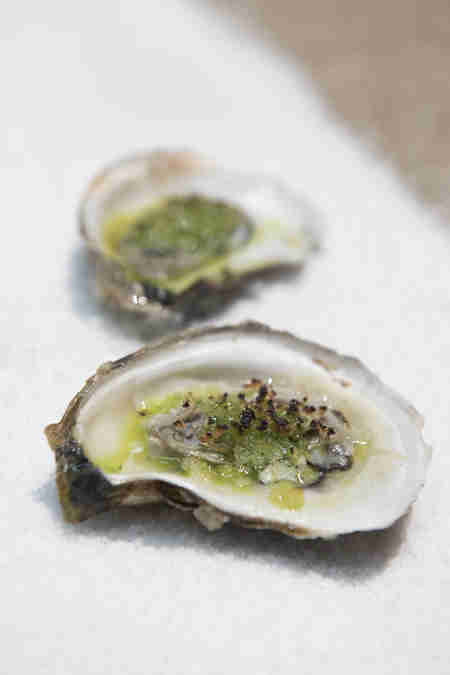 Long Island Oyster Escargot
The Fat Monk
Local Long Island oyster encrusted with parsley pernod butter
Oyster Ceviche
Littleneck
Leche de Tigre, fine herbs, cucumber
Oyster Pancake
Seabird
Served with pickled coleslaw, tartar sauce, and squid ink sauce
Blue Point even brought a beer made with oysters.
Well, oyster shells. It's the Blue Point Oyster Stout, which is brewed with oysters from Long Island's Great South Bay to give the stout it's full-flavored salinity. Not surprisingly, it pairs perfectly with a raw oyster. They also brought the seaweed-brewed Pop Stopper, cans of Toasted Lager and even their spiked Brewed Tonic. Want more on that oyster pairing? Well we wrote this handy guide to LI oysters. 
Chefs told us the weirdest things they've ever put on oysters
Because their dishes were so creative, we asked the chefs about their strangest oyster-eating experiments. For Chef Adam Raksin of Metropolis, it was a West Coast oyster poached in a hoppy IPA, then topped with licorice root and tangerine, which made for an unexpected, harmonious bite.
For Peter Canny of Goodnight Sonny, it was more out-of-the-box (well, technically, jar): peach marmalade. "I was super skeptical, because it sounded super weird," he said, "but it was actually really good." The most daring though? That would be Andrew Sikoski of Dock's Oyster House, who knocked back an oyster with salted chocolate and some bacon, or as he described it "sex in your mouth." We took his word for it.
Oysters were the center of a passionate debate.
Oysters have long been rumored to be an aphrodisiac. It's said that Casanova himself ate 50 oysters a day for breakfast so he could, um, perform. Then, in 2005, scientists found that their amino acids do bump up your libido. But, that's only one study, so we figured we would do our own (totally scientific-ish) survey with the guests at Empire Oyster. We asked as many people as we could if they believed oysters are an aphrodisiac, and through plenty of blushing here were the results:
Farmers schooled us on growing oysters.
Since we enlisted oyster farmers from all over New York to come and shuck oysters at Empire Oyster, we thought this was a good time to pick their brains about how exactly we get these salty sea treats. Turns out, most are grown, by hand -- a method that is especially popular around New York. Take Kris Mielenhausen, who with his wife, Heather, were shucking their first-ever harvest since starting Shelter Island Oyster Farm a few years ago. Most farmers start their oysters from "seeds" (basically tiny baby oysters) that are then grown in racks, bags, or cages. These act like a coral reef for local waterways and help to restore marine life. That's why we recycled every oyster shell at the event to be reused by Billion Oyster Project, a nonprofit working to restore New York's Harbors to their original, marine-life-filled glory by filling it with a billion oysters.   
An artist painted an oyster masterpiece.
We enlisted James Zdaniewski, aka "Dr. Z" -- a pop art multimedia artist --  to show off the beauty of NY's oysters by painting them into a giant map of Long Island, which graced an entire wall. This was the first time oysters were the subject of his work, and he said he was inspired by how oysters only a few miles apart from one another could have such different shapes and colors.  
A band celebrated oysters in song (and sax).
Even our music was dedicated to the love of slurping down salty bivalves, thanks to the yacht rock band, Main Sail. (Because come on, how could we not have yacht rock at this party?) For a taste of their sound, think 1970's love boat with a hint of Steely Dan. These guys know how to create ambiance, starting with sax player Stan Killian's requirement that every band member wear a captain's hat on-stage.
And, most importantly, thousands of oysters were devoured.
The best part of Empire Oyster? Probably the sheer number of oysters that were knocked back: more than 10,100. That's like, almost 25 a person, which is enough to make you want to take on the world, apparently. Some more stats: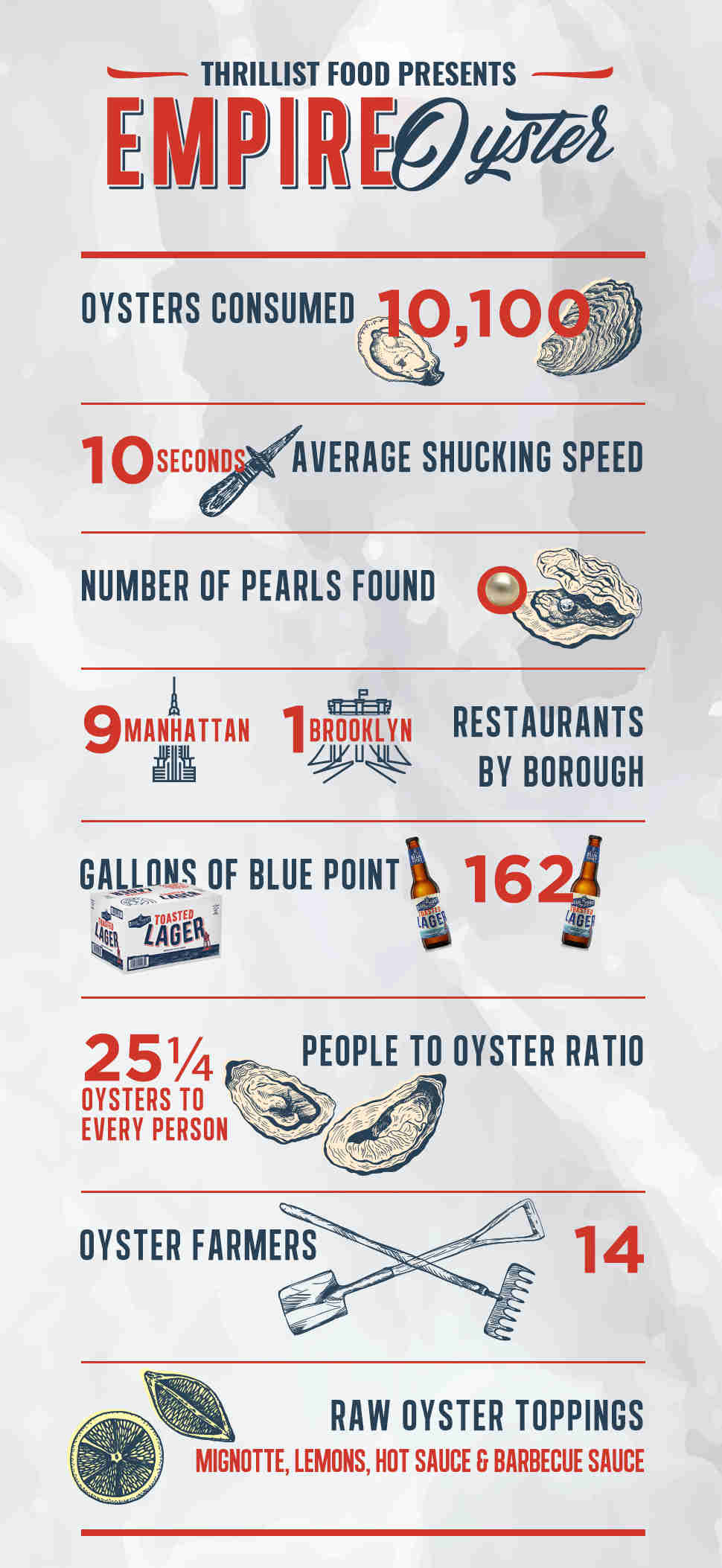 And here's just a sampling of some of our favorite pics: