Everything That Went Down at the Best Taco Party of the Year
If three's company and two's a party, then eleven tacos make for the fiesta of the century. That's exactly what Taco Knockout (our annual NYC-based Tex Mex throwdown) ended up being, and we brought our best photographer to document all the insanity for you poor souls who couldn't go. We interviewed a real, live, walking, talking taco, made people eat the scorchingly spicy hot sauce we developed with GE, and more. To kick things off right, here are some obscenely delicious photos of the tacos for your eye-feasting pleasure:
Megan Swann/Thrillist
Crispy Black Bass Taco
L'Amico
Crispy black bass, topped with smashed (!) avocado and charred tomato salsa
Megan Swann/Thrillist
Duck Banh-Bao Taco
Black Tree BK
An upscale taco with liver mousse, rillettes, leg confit, spicy aioli, house pickles, and cilantro
Megan Swann/Thrillist
Pork Belly Taco
Swine
A surf & turf take on tacos with pork belly, lobster mousse, finger lime, and poblano relish
Megan Swann/Thrillist
Chicken Taconada
Empanada Mania
An empanada/taco hybrid using a southwest chicken breast & Colby Jack empanada, stuffed in a crispy corn shell with pico de gallo, Tajín, and chipotle drizzle
Megan Swann/Thrillist
Low Country All-Star
Ho' Brah, a Taco Joint
Beer-braised pork carnitas, covered in blueberry BBQ sauce, pickled red onions, Oaxaca cheese, and California coleslaw
Megan Swann/Thrillist
Nugchos
The Nugget Spot
Yellow corn-coated chicken thigh, deep fried, served with pico de gallo, nacho queso, and roasted jalapeño ranch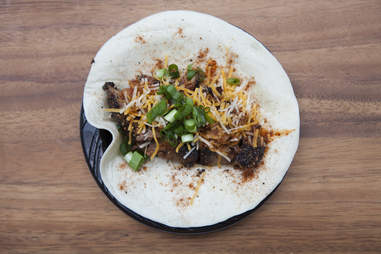 Megan Swann/Thrillist
Austin Cho Tacos
Kimchi Smoke
12-hour smoked brisket, also-smoked kimchi, bourbon chipotle sauce, and remoulade, piled into a flour tortilla
Megan Swann/Thrillist
Gyro Taco
Añejo Tribeca
Lamb meatball and spicy chipotle harissa, brightened up with tzatziki and pickled red onion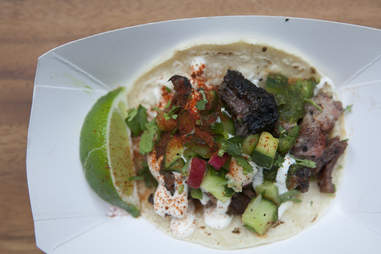 Megan Swann/Thrillist
Smoked Short Rib Taco
Tres Carnes
Coffee- and garlic-rubbed smoked short ribs with cilantro chimichurri, lime crema, and pickled cucumber pico de gallo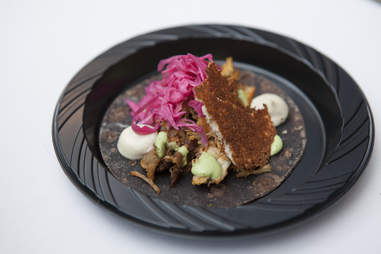 Megan Swann/Thrillist
Taquito de Guinea
Choza Taqueria
Guinea hen rostazido (that means "roasted", y'all), mole-spiced tortilla, and queso frito
Megan Swann/Thrillist
Smoked Turkey Taco
Campeon
Slow-cooked turkey in a mole poblano sauce, stacked with tri-colored mayo slaw, a slice of avocado, and crispy sweet potatoes
Megan Swann/Thrillist
We tried to build the ultimate nacho
Because we're gluttons for punishment and gluttons for nachos, we enlisted our friends at Tums to help us put together a massive "Fear No Nacho" station complete with more than a dozen toppings (including crazy stuff like Ostrich meat and deep-fried cheese curds). And we set out to get all of the toppings onto one chip. And you know what? We did a damn good job. It's all about building a foundation -- a sticky layer of pinto beans upon which all the other ingredients can find their footing for an easier journey straight into our mouths. Once you have all your meats lodged firmly into place, you can start the layering process -- like a mason of nachos honing his craft.
Megan Swann/Thrillist
We interviewed a professional taco
When we first saw the taco emerge at an event where people were biting, ripping, and tearing away at tacos with their chompers, we wondered to ourselves: was this taco shell-shocked enough to wander past enemy lines? The second thing we wondered was "damn, does this taco have a personal trainer? He is FIT." So naturally, we had to talk to him.
Thrillist: So we're here at Taco Knockout. Everyone is eating tacos. You are a taco. How do you feel about that?
Taco: Well I'm not into cannibalism, but if I find the right ingredients, it's totally worth it.
 
So have you had any tacos today?
 
I've had like four tacos.
 
Final question: are you a sandwich?
 
I've got bread. I've got meat. I've got cheese. I'm kind of a sandwich!
Groundbreaking stuff. Especially that last bit. So we had to bring this same question to all the taco-thusiasts stuffing their faces. Turns out, there were some pretty strong opinions on this one:
Taylor Gibbs/Thrillist
We forced people to eat our insanely hot hot sauce that we made with GE
That's right, we created a hot sauce with GE that is so hot we named it 10³² K after the temperature at which the rules of physics no longer make sense. Yeah… let's just say once our victims tried it, it was burned into their sensory memory forever. Check it:
Megan Swann/Thrillist
"Why would you do this to me?"
Megan Swann/Thrillist
"It hit me a lot harder as I was walking away."
Megan Swann/Thrillist
"It's good but it's HOT. It's getting hotter!!"
Derek Springsteen/Thrillist
We learned the history of this crazy thing called the Hora Loca
At Taco Knockout, with the help of Jose Cuervo and some well-timed tequila shots, we threw a completely bangin' Hora Loca to close the afternoon out. Wait, you don't know what an Hora Loca is? Yeah, we didn't either. That's why we wrote a whole story about it. But here's some basic background to get you started: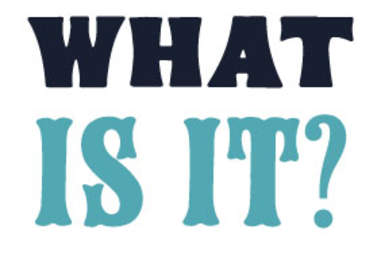 Derek Springsteen/Thrillist
It's the crazy hour! You know, an outlandish moment at the end of a particularly festive party where stilt-walkers, feathered dancers, and flame swallowers bust into the room at end the night with a serious bang (maybe literally?).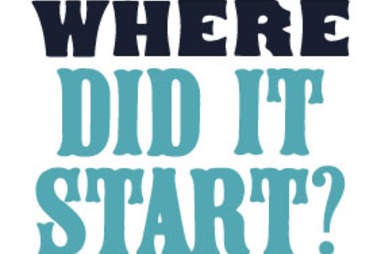 Derek Springsteen/Thrillist
The concept is based on the New Year celebration from Spain, but it actually started when one particularly vivacious Venezuelan couple wanted to bring the Spanish New Year's festivities to every party, everywhere in the world. They opened a shop to help outfit people for their own Horas Locas, and it caught popularity in the US due to a surge in Horas in Miami.
Derek Springsteen/Thrillist
Feathered masks. Stilts. Any crazy festive regalia you can think of (maybe skip the fire-breathing…). It's basically an excuse to go nuts and celebrate like it's Mardi Gras. Bonus points for serving late night eats -- pizza works, but empanadas are traditional. Go forth and party loca, friends.
Derek Springsteen/Thrillist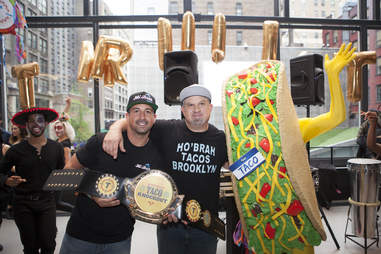 Megan Swann/Thrillist
And the winning taco is...
Ho' Brah, a Taco Joint