From Brownies to Netflix: Everything You Need to Enhance Your 4/20 Experience
The 20th of April is the one day a year people smoke weed in America. Since you'll probably be busy celebrating the unofficial national holiday in ways that don't involve reading hilarious and informative cannabis-related articles on your phone, bookmark this story and read all the fantastic stuff we've written about the world's favorite medicinal plant over the past few years sometime soon.
Everything from the best pot brownie recipe, to what it's like to work at a dispensary, to what the weed laws are like in your state is covered here. Basically, the only thing we didn't give you here is actual weed. You holding?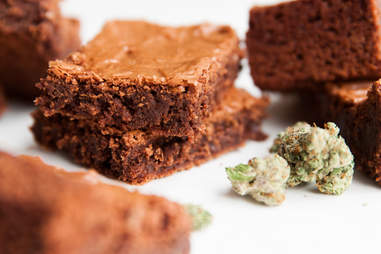 Perry Santanachote/Thrillist
You'll need cannabutter to make this brownie recipe a winner, but we've got you covered with the recipe for it. Even better: this how-to was developed by a chef at an award-winning Denver-based edibles company. These are brownies by professionals... using someone's grandma's recipe. For real.
 
We explore two main theories as to why this is true, but it comes down to the fact that "cannabis lowers the threshold for surprise" and the fact that THC can alter your mood (in the way that you will find Garfield: A Tail of Two Kitties funny).
 
If you're lucky enough to live in a state like OR, WA, or CO, you don't have to buy weed from your brother's best friend's shady roommate -- you can drop in to your local neighborhood dispensary. But the options will probably be overwhelming, so we give you tips like how much cash to bring, and to look beyond buying cannabis.
Oleg Baliuk/Shutterstock
All the cool kids are vaping these days, and while it's tempting to just hop on the super-cloudy vape bandwagon, we actually break down the supposed benefits, from whether or not it's healthier to its "nuanced flavor."
 
Hoppy beers and cannabis are a perfect pair, like longtime married couple Tom Hanks and Rita Wilson, but much more fun to hang out with. That's because both hops and cannabis have myrcene in them. We asked a guy who makes a living pairing food and cannabis together to take a swing at teaming up weed and IPAs, and he came up with matches like a Goose Island IPA and Tangerine X Flo.
 
Foria is a widely available cannabis-based lube that doesn't actually get you high. Well, it gets very specific parts of you high, and only if you're a woman. Our fearless reporter (me!) gave some to his (my!) girlfriend, and the results were orgasmic for all involved.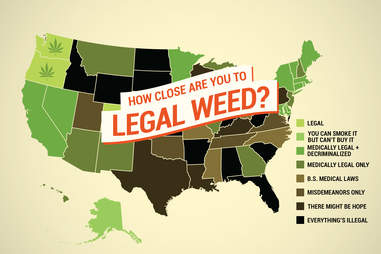 Jennifer Bui/Thrillist
An in-depth look at every state's current marijuana laws, including states like LA and KY, where laws might soon pass that legalize it for medical use. If you smoke and live in a state, this is essential reading.
 
Vegas has a reputation for being a party city, but it only recently legalized the ability to buy cannabis in dispensaries. The process of being able to buy it legally is much more difficult than in states like CA, but the benefit of buying in Vegas are the myriad testing requirements, ensuring you don't go home with moldy, pesticide-laden bud. Also, slot machines!
 
Because cannabis occasionally disincentives people from getting up off the couch, we've put together a guide of all the new entertainment options on Netflix this month, including stoner-friendly programming like Seasons 3 and 4 of Cutthroat Kitchen and Transporter 3.
MC Wolfman/Thrillist
The people who work at dispensaries -- budtenders, as they're known -- sometimes don't make more than $10 p/hour, and yet are expected to be shoulders to cry on and "doctors" who can dispense medical advice. They should be neither of those things, but that's often the job. And here, we get a peek behind the curtain.
 
Have you been chucking your stems? That shit'll get you high! And give you a nice cup of tea. This article is chock-full of tips on how to be the best cannabis enthusiast you can be.
All the best snacks to eat when you're as baked as a chocolate chip cookie at grandma's house are reviewed and ranked. Hot Pockets scored a top-three ranking, but somehow Reese's came in #18, which should invalidate the whole damn thing.
 
First things first: if you're storing bud in plastic, you're doing it wrong. And if you have enough cannabis you need to store long term, it might be worth investing in humidity packets. That and plenty more helpful tips will help keep your pot in perfect shape.
Sign up here for our daily Thrillist email, and get your fix of the best in food/drink/fun.
Jon Sumpson writes about weed and sex for Thrillist.