9 ridiculous, crazy, and expensive food/drink items you can buy at Costco
In case you haven't heard, Costco is now for the nouveau riche. And seeing as you can now buy a $17,000 Scotch at the most non-exclusive "members-only" destination ever, we decided to round up some more absurdly decadent food and drink items you can purchase from that cavernous discount warehouse. Looking to save some cash on that 450-bottle wine cellar next to your nuclear fallout shelter full of a year's supply of vegan foodstuffs? Don't worry -- Costco's got you covered.
Plaza De Caviar Caviars of the World ($299.99)
Just because you're throwing a gala for your pocket watch collection doesn't mean you can't be sensible about your fancy fish-egg purchases. This caviar set may come from Costco, but it still includes varieties named "osetra gold" and "plaza royale", plus some mother of pearl caviar spoons and a thermal carrying tote.
Pat LaFrieda Meat Lover's Package ($349.99)
He might have some wild ideas about BBQ, but meat king Pat LaFrieda is basically the Meryl Streep of dead animal carcasses. So why not pick up a package of his finest cuts, including some dry-aged prime black angus bone-in rib steaks, along with your 500-roll pack of toilet paper?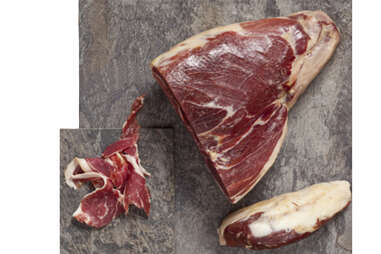 D'Artagnan Spanish Mangalica Dry-Cured Boneless Ham ($389.99)
... or just throw money to the wind and pick up far less meat for even more dough. Hey, it does have a lot of fancy words (and a goddamn Musketeer) in its name.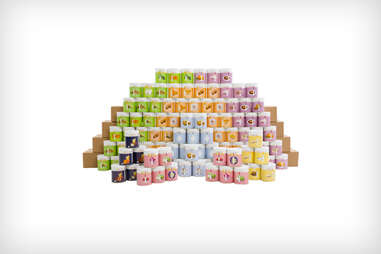 One Person One Year Food Storage, 9687 Total Servings ($1499.99)
No matter what your excuse is for an emergency stash -- zombies, Biblical end times, Y2K for real this time, John Cusack -- this massive stockpile of food will keep you fed and fending off drifters for 365 days. And when we're talking an under-$2K bargain, throwing out your couch to make room for 120 gallon-sized cans is totally worth it.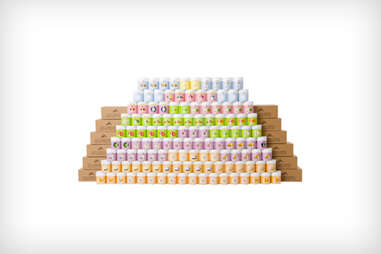 Gluten-Free and Vegetarian Food Storage, 8671 Servings ($1799.99)
Also convinced that the Old Gods and the New Gods will make reign hell upon Earth in one year's time, only you can't bring yourself to eat a dead cow even in the end times? Really? Then congrats, you're the most contradictory person we've ever met, and you should load up on this massive gluten-free/vegetarian food supply. But not before you read the hilarious customer reviews.
Jura Impressa XS90 One Touch Automatic Espresso Machine ($1999.99)
Sometimes, a Keurig machine just won't cut it. And that's when you in invest in an espresso machine that's bulkier than Nate Newton sitting in a spare tire sitting in a bunch of bubble wrap.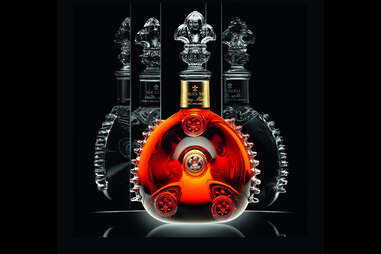 Remy Martin Louis XIII ($2299.99)
Well, it's not exactly a Macallan, but you can still score some pretty pricey booze with this Remy Martin Louis XIII Cognac, available at the Costco in Holbrook, NY. The bottle's swanky, the liquor is sought-after, and the name refers to King Louis XIII, who listened way too much to Cardinal Richelieu, and that's another Three Musketeers reference, son!
Jingle Bell Holiday Tower Pallet ($2,799.99)
Bury your dearest friend in truffles and pralines this holiday season by gifting this 144-tower pallet of sweets. Because nothing says merry/happy Christmas/Hanukkah/Kwanzaa/Solstice like a nearly $3000 shipment of candy guaranteed to leave you with a $4000 dentist bill (NOTE: insert joke about Three Musketeers candy bars here).
Vinotemp Clavos 700 450-Bottle Wine Cellar ($3999.99)
Just picture it. Your friends and family have gathered for the grand opening of your home wine cellar. The cheese is smelly & French, and the Malbec is flowing. Your stupid, much poorer neighbor Jerry leans in and asks, "Man, where did you get that amazing wine armoire?" You smile smugly and whisper, "Costco," as you slowly wink at Jerry's wife.
Kristin Hunt is a food/drink staff writer for Thrillist. Some of her strongest friendships are built on cheeseburgers. Follow her at @kristin_hunt.