Whole Foods is a supermarket that stands for healthy eating, which is why we walked into the food court, decided to find every single thing that goes against that, and created an improbably gluttonous, completely amazing sandwich. It clocks in at an estimated 4700 calories; the government recommends men aged 19-30 consume only 2400 calories per day. Throw on some extra dressing and you're more than doubled up. See what happens when we mash up basically everything bad for you from "America's Healthiest Grocery Store":
First, we started with an Austin BBQ sandwich: a delicious combo of brisket, cole slaw, pickled onion, pickled jalapenos, and spicy Austin's BBQ Sauce. It runs about 600 calories.
Next, we took an All The Way grilled cheese, which is delightfully topped with pulled pork, mac and cheese, and hot sauce. Two of these bad boys will sub as the buns for the brisket sandwich, and they weigh in at around 3100 calories combined. So, that's a pretty good start.
This thing is not messing around.
Something's missing. Ah, yes: mashed potatoes. Only about 70 calories!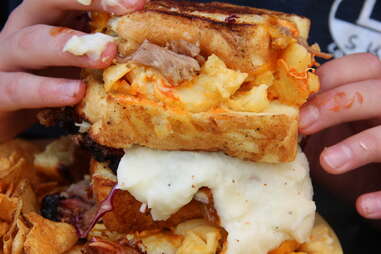 And another All The Way goes on top! Now we're getting somewhere.
This would pair perfectly with a side of steamed kale.
Every good meal has a side dish, and ours is buttermilk fried chicken atop waffles. And that adds around 800 calories, all told.
And the "cherry on top" is a delicious bison quinoa meatball (~80 calories), now smothered in the maple syrup originally meant for the chicken and waffles. It's a modernized frontier breakfast re-imagined as a side dish.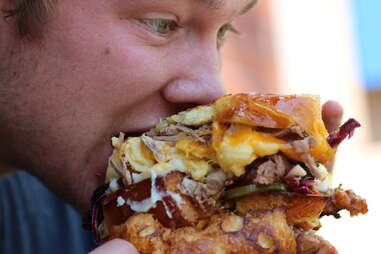 Our contributor Devin took this monstrosity for a taste-test. The verdict? "A cheesy barbecue mess with strong cheddar and BBQ flavors." And with the final tally for the entire meal at just $36.71, it's affordable to split with a friend, so each of you can cover your calorie RDA in a single meal. Next time you find yourself at Whole Foods, eat it next to a horrified lady in lululemon pants, and it'll taste even better.