The man, the legend: Fabio. He has become an international symbol of masculinity hair, muscle, and ambiguous European accents. If you don't already know that Fabio founded a health company called Healthy Planet Nutrition, then really what kind of man's man are you? To pimp his newest line of protein powders, the man whose endorsements have included I Can't Believe It's Not Butter and Old Spice is posting up in various Whole Foods locations across the country and just sort of hanging out.
Photo: Buzzfeed.com
Oh, and for a mere $45, you get a tub of Fabio's not-butter protein and you get to take a picture with the man himself holding you in his arms like a newborn babe. Play your cards right, and The Fabs will even thumb-wrestle you!
The powder is a supplement of "The Purest Whey" that comes in Creamy Vanilla, Rich Chocolate, and Original, it's kosher (!), and, not unlike the appeal of Fabio himself, it is for both men and women. Whip up a couple of shakes, and you'll soon notice that your pecs are bulging, your hair is long, blond, and constantly wind-swept, and you prefer smoldering to speaking.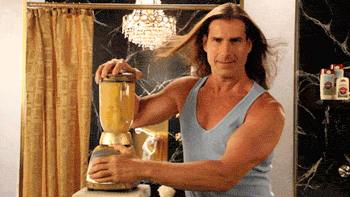 Source: FabioOldSpices.tumblr.com