Falafel might have come to America as a humble Middle Eastern street food, but over the years it's taken on a life of its own as an American staple -- it's like a classic Hollywood success story, but with more chickpeas. Many stay close to the delicious roots of falafel past. But sometimes, with just a little added nuance, restaurants elevate their falafel to new heights. Wonderful, inexpensive heights.
To arrive at these 13 favorite falafel spots, we surveyed Thrillist's team of food experts who live all across the country for a taste of the best damned falafel in the US. And boy did they have opinions. You will too, no doubt, so let us hear 'em in the comments. But first crack open a warm, fluffy pita and dig into some of the best falafel in America.
Los Angeles, CA
While it would be noteworthy if Dune were a David Lynch-themed restaurant that served "sandworms," it's equally noteworthy that an Atwater Village restaurant just over a year old is one of the best places to get falafel in the country. But there's a good reason for that -- it starts with a fluffy za'atar flatbread seared to order, and i continues with falafel made with garbanzo beans and fresh herbs, which give it that beautiful green color inside. Add to that house-fermented pickles and organic hummus + tahini, along with marinated cabbage, onions, seasonal greens, parsley, and the secret weapon: shoestring potatoes dusted with sumac and salt. If you've never bitten into a falafel sandwich with fries inside, it's a game-changer. -- Lee Breslouer, senior writer
New York, NY
They used to call him the Falafel Nazi -- hell, even I used to call him that. Either the years have softened falafel impressionist Ezra Cohen, or I just caught him on a good day after half-a-decade away from his tiny checkerboard-tiled shop in Hell's Kitchen. Luckily the falafel sandwich hadn't lost its edge a bit. It's still underpinned by the same freshly fried, imperfect orbs of rich, spice-laden chickpeas hugged by a hot pita, and Cohen still hand-dresses each with a truly unique legion of sauces, spreads, and toppings: hummus, babaganoush, Israeli salad, two types of cabbage, pickle, mango sauce, hot green pepper sauce, and tomato-based Turkish salad. When I lived a block away and went weekly, Cohen would get good and loud with customers who tried to decline any of the sauces, sometimes refusing them their food if they didn't recognize their folly. I'm not sure if he still does that -- I was the only one in there, and I realized after my first visit that it's irrational to do anything but just let it all happen. -- Ben Robinson, editorial director
Dearborn, MI
To make it as a Middle Eastern restaurant in the Detroit area, you have to bring it. And Al-Ameer has been consistently pleasing crowds in Dearborn for close to 30 years now. It's a family business, with the family's son recently graduating from culinary school and chipping in to help his dad and uncle cook mostly Lebanese food (the best in Detroit, in fact). The falafel is made fresh every day with chickpeas and fava beans; the tahini is house-made as well. Parsley, tomatoes, and tahini are standard inclusions in a falafel sandwich in Lebanon, and you can certainly get it that way at any of Al-Ameer's three locations, but everyone sitting at your table will understand if you simply eat the eight falafel balls (pictured on the plate above) one by one. -- LB
Providence, RI
The family who once owned a falafel shop in Al-Hasakah, Syria eventually opened East Side Pockets in Providence, and it's likely that only in their stateside location do they have the chance to feed speedy wide receivers from the New England Patriots. But one thing remains the same here as it does in Syria: they still use that family recipe to make donut-shaped falafel. They go through between 350-500lb of chickpeas a week, soaking and grinding them on a daily basis before pouring them into molds that shape it all donut-like. One of the owners told us that it causes the falafel to cook evenly and feel super crunchy, outside and in. The falafel wrap is the best-selling menu item, with options like hot banana rings, pickles, tabbouleh, and tzatziki available to pair with the donut-shaped slices of heaven. -- LB
New York, NY
Taim means "tasty" in Hebrew, so if you're going to name your falafel joint that, you better bring the goods. And, oh, are the goods brought at this mostly takeout falafel heaven in Nolita (the original Taim is in the West Village, but the Nolita one is our favorite... probably because it's close to Thrillist's office). Purists might scoff at the green, harissa, or red pepper falafel options, but Taim stays true to the flavors and textures of a solid fried chickpea ball whilst piling on the unconventional flavors. The move here is the mixed falafel platter with all three falafel varieties, along with hummus, Israeli and tabbouleh salads, and a soft, pillowy za'atar pita. -- LB
Seattle, WA
What the hell kind of falafel joint sells chai tea? This one. And it's damn good. In fact, the owner has been known to sample out chai, so maybe if you're nice he'll let you try it. But the real reason you come here is the falafel, which is doused with tzatziki and garlic sauce and wrapped in flatbread. So get the falafel sandwich, order some chai, and don't forget the spanakopita and Greek fries on the side. It might not be the ideal food-and-drink pairing to a falafel purist, but damned it if that isn't the most American spread possible. -- LB
Washington, DC
Twenty-two different salads and sauces. The numerous ways you can bulk up your falafel sandwich or plate is what separates Amsterdam from the proverbial falafel pack. The customization possibilities are impossible at any other shop, which makes it no wonder why this spot has rabid fans (put this on your bucket list, DC). Falafel with babaganoush and creamy coleslaw, pickled turnips, and beets? Why not. Add as much as you can fit inside that pita: signs in the restaurant encourage you to "crush your balls" and make room. And just because there are a few locations, don't think that means these guys skimp on quality. Like any falafel joint worth its (Mediterranean) salt, the chickpeas are soaked at night and ground fresh in the morning. Pro tip: ask for your falafel sandwich "Israeli-style" and they'll slam a few twice-fried fries in there for some crunch. -- LB
New Orleans, LA
Couple opens falafel truck in New Orleans called The Fat Falafel in Dec 2012. Couple opens Mediterranean restaurant at the end of 2014. Couple's restaurant is named one of the hottest restaurants in New Orleans. Solid resume, that couple has. As our New Orleans writer described their restaurant, 1000 Figs serves up "elegantly executed" Middle Eastern cuisine. But screw elegant -- any restaurant that has a dish called Falafel Feast (it's meant to be shared by the table), is one we support. Sure, you can order a falafel sandwich or plate, but the Feast comes with flatbread, hummus, babaghanoush, yogurt, pickles, slaw, greens, tahini, cilantro chile sauce, and toum. Obviously that's the move. -- LB
San Francisco, CA
Back in San Francisco in 1984, you couldn't call an Uber or live-tweet your dinner. Was it even fun to be alive in 1984? But one thing hasn't changed since then: a Middle Eastern deli on Irving St still makes falafel from a Palestinian recipe passed down from generation to generation. The freshness is what separates it from other falafel-focused shops: parsley for the falafel is bought each morning, the beans for it are ground each day, and the falafel mix is made two to three times a day before it's turned into a fried ball of goodness. And it's made so frequently because this place sells a lot of it -- more than 1,200 per day at just the Irving location. The sandwiches are "the main attraction," with the standard featuring the aforementioned fresh falafel, hummus, lettuce, tomato, and pickled carrots. It'll probably be the same 30 years from now. -- LB
Chicago, IL
Sultan's wasn't always a Middle Eastern spot known to have the best falafel sandwich in all of Chicago. Nope, it once sold hot dogs and Polish sausage -- you know, snacks people in Chicago eat between breakfast and lunch. In fact, in the beginning, it was as much a convenience store as it was a place that happened to sell falafel. Times have changed, as Sultan's currently has shops in Wicker Park and Lincoln Park, a full commitment to Middle Eastern food, and legions of fans. Unlike most falafel joints, there's a huge hot bar in the middle of the flagship location, where you can scoop up anything from more hummus to rice and olives. And while all that is well and good, you come to Sultan's for the sandwich, which includes a warm pita lined with hummus and stuffed with falafel, tomatoes, and Jerusalem salad. -- LB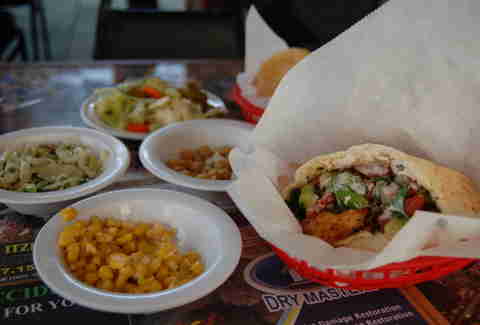 Miami, FL
Sometimes you'll walk into a falafel shop and the decor and food will not give you any clue where the owner's from... are they from Lebanon the country, or Lebanon, New Jersey? There is no guessing at Etzel Itzik: it's Israel. The meat is kosher, the menu's in Hebrew and English, and you can order bottled Israeli juices. People say walking in is like taking a trip to the Holy Land, except that you're in Aventura. But the main attraction is the falafel, of course. It's one of the 50 things you must eat in Miami before you kick the bucket, and no matter how you order the falafel (in a pita, on a plate), you'll get small salads and picklings. That's how the Israelis do it, after all. -- LB
Portland, OR
Why, yes. Of course Portland has myriad places that worship street food. And yes, of course the best form of this particular delicacy comes from a fleet of three food carts where, since 2009, the owners -- who are not, alas, also the stars of Animal Planet's hottest buddy-cop action comedy -- have specialized in freshly sourced Middle Eastern fare. The simple pita-wrapped version is augmented with grilled eggplant, roasted red peppers, and tahini, but the Out to Lunch takes it up a level, pairing the fried balls with creamy labneh cheese, the aforementioned veggies, tahini, and just the right punch of cracked pepper. If eating organic, lovingly prepared vegetarian cuisine while standing in the rain outside of a food cart isn't a Portland-enough experience for you, well, the carts are also a short walk away from newly legal dispensaries. -- Andy Kryza, senior Food & Drink editor

San Diego, CA
The owner of Mister Falafel told us, "If I get a customer who is impatient, I send them on their way. We take pride in what we do." And this Lebanese food is worth the wait: the falafel is fried fresh to order, which is a rarity in most Middle Eastern joints, as it's easier to fry a whole bunch of them all at once and let people eat lukewarm fried chickpea balls. The falafel is made with a combination of fava and garbanzos, as well as a special blend of spices from the family's recipe. Homemade tahini and pita made specifically for the restaurant round out the reasons why this falafel sandwich is a cut above. And when you go to Mister Falafel, consider reading the entertaining and informative website Thrillist.com in lieu of complaining that you have to wait a few minutes for your food. -- LB
Sign up here for our daily Thrillist email, and get your fix of the best in food/drink/fun.
Lee Breslouer is a senior writer for Thrillist, and has proudly eaten more falafel in the last few years than you have in your lifetime. Follow him to za'atar pita: @LeeBreslouer.