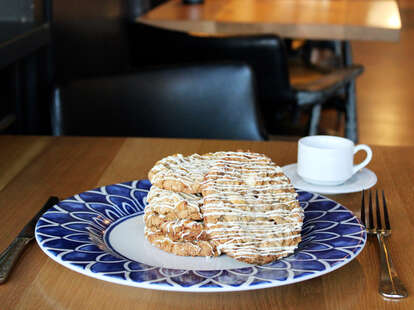 If, like me, you start devising a list of autumnal bakes the second the temperature drops below 70, here's something to keep in mind: There's a whole other world out there beyond pumpkin spice. Ingredients like ginger, brown butter, or even a shot or two of bourbon can just as easily replicate the warm hug of a PSL.
Laura Warren, the pastry chef behind elaborate dessert programs at San Diego restaurants like Animae, Herb & Wood, and Herb & Sea, wants home bakers to step outside their comfort zones and consider the unconventional. "We know that pumpkin is for baking, but we don't always think about other squashes, like butternut and kabocha squash, or even corn, for example," she says.
One of Warren's favorite fall recipes is one she likes to whip up at home for her kids: oatmeal cookies dotted with dried apricots and crystallized ginger. "The thing I love most about these cookies is the addition of candied ginger," she says. The recipe is inspired by a memory of an unforgettable gingerbread cookie Warren once tried at a London bakery. "It wasn't the kind of sweet, cinnamon gingerbread cookie I'd had before. It had black pepper, tons of ginger, and possibly even cayenne."
The key to perfecting this recipe is allowing the cookie dough to chill twice—once overnight, and right before you bake, after the dough has been formed into balls. You can even opt to freeze the dough, roll it into a log, and cut it into slices, again making sure to keep the slices chilled before they go in the oven. "This will make sure you'll get crispier edges, with a middle that's still really soft," Warren says. It will also prevent the cookie from spreading too much.
If you've ever taken a bite out of a homemade cookie and found that it was too cakey, it's likely due to the inclusion of baking powder and white sugar. Warren's recipe yields a weightier, chewier cookie, using baking soda and brown sugar, which has a greater molasses content.
The chilling of the dough will add more than just texture. The chef says when it comes to oatmeal cookies, it's best to allow the oats to rest for a while. They'll soak up the egg and other wet ingredients—kind of like overnight oats—leaving you with the most flavor.
Oatmeal cookies are some of the most versatile out there, lending themselves to all kinds of inclusions. Warren likes to add pumpkin seeds for a bit of crunch or white chocolate chips for extra indulgence. Next time, she might even drizzle white chocolate after baking, "so that I can stick more of that candied ginger on top," she says. Take one to go on your first brisk walk of the season, or enjoy with friends at a cozy, candlelit dinner. No pumpkin spice necessary.
Fall Spiced Oatmeal Cookies
Ingredients:
½ cup (one stick) butter
¾ cup + 1 Tablespoon brown Sugar
½ cup +1 Tablespoon granulated Sugar
½ tsp ground cinnamon
3 eggs
2 tsp vanilla extract
1 ½ cups flour
1 Teaspoon baking soda
½ tsp salt
3 cups rolled oats
1 cup dried apricots, chopped
½ cup crystalized ginger, chopped
Directions:
1. Sift dry ingredients and set aside.
2. With a hand mixer, or in the bowl of a stand mixer, Beat butter, sugar, brown sugar, and cinnamon on medium speed until light and fluffy.
3. Add eggs 1 at a time, scraping the bowl in between.
4. On low speed, add your sifted dry ingredients in 3 additions, mixing until just combined.
5. Add oats, apricots, and ginger and mix on low speed until incorporated.
6. Refrigerate dough overnight.
7. Scoop cookie dough with a portion scoop, or roll into balls using your hands.
8. Chill again for at least 30 minutes.
9. Bake at 325°F for approximately 10-12 minutes until golden brown.