What Chefs Actually Eat After They've Been Drinking
Because under-the-influence eating is a universal truth that no one is immune to, we asked several great chefs around the country to give us the scoop on what they eat after they imbibe. They may be known for their culinary capacities, but even folks like Justin Warner can fall prey to 1am 7-Eleven taquitos.
Drew Tyson/Thrillist
Tomas Prado, chef at Golden Fig
Miami, FL
Favorite food: Philly cheesesteak
"One of my favorite late-night munchies is the Philly cheesesteak at The Alibi. It's as good as you'll get outside of Philly and has the best ingredients to sober you up. It also helps that it's in a great local dive bar where you can keep the party going."
New York, NY
Favorite food: Eggs
"I've certainly gone for pizza or Papaya Dog. But I don't really go out like when I was younger -- and if I am out, I don't want to stay out longer eating. So I make myself a lot of eggs. Scrambled eggs, fried eggs, egg sandwiches. I love eggs, they're probably my favorite food. They're relatively good for you. And they're really easy to make. So even if I have a little too much to drink, I can still make them. Lately, I soft-scramble eggs with hot sauce and sometimes canned seafoods, if I have them. Then I make little nori scrambled egg tacos. Sometimes I add in potato chips and scramble them into the eggs for crunch."
Frank Mnuk, executive chef at Geraldine's
Austin, TX
Favorite food: Chinese or a "one-handed sandwich"
"I have three options. After a long night out, if I decide to stay out, I go for Chinese or Thai food. I get something spicy as it seems to wake you up for the [REDACTED] crawl to continue. If I choose to stumble home, I go for the one-handed sandwich. It's basically a smoked turkey and cheese sandwich with mustard. You build it while the fridge is still open in one hand. The last option is another drink."

Ty Leon, chef at Mizuna
Denver, CO
Favorite food: Burrito
"After a night on the town in Denver, I like to hit up one of the burrito stands conveniently located near the bars. Never ask for spicy because that could ruin the rest of your night, maybe even weekend. If I can make it over to Marquis, the NY-style pies pizza spot, I grab a slice of cheese, maybe two. And if I decide not to spend money, I just eat leftovers in my fridge. A homemade piece of lasagna or red velvet cake is usually my go-to."
New York, NY
Favorite food: French dip and pancakes
"Just the other night, I found myself at Big Daddy's diner circa 2am and I ordered a French dip sandwich and chocolate chip banana pancakes. Generally at home, I make myself popcorn. I love to spice it up with different interesting spices and sauces."

Justin Warner, former chef at Do or Dine
Brooklyn, NY
Favorite food: 7-Eleven taquitos
"The very elusive jalapeño cream cheese Go-Go Taquito from 7-Eleven. Finding one of those sober is enough to make my day... while under the influence I might cry a little and take a selfie to celebrate this treasure. There's just something about the crunch that I think can only be obtained by rolling back and forth for some time. Can you do that at home? No. The interior is the perfect balance of rich cream cheese and spicy jalapeño peppers. The salt content is just right. It's portable, and gives you a great amount of satisfaction without fear of bubble-guts in the morning. Slam three of these and rage on. For the readers, if you find one in NYC, please let me know."
Chicago, IL
Favorite food: Tripe and tartare
"I don't indulge like I used to, I'm not a kid anymore. But when Fergus Henderson was in town from London, we went to Chicago Kalbi after a big event. Needless to say, we had a lot of fun. The mountain chain tripe appetizer and tartare were totally off the hook. Plus the hospitality is great, they are the sweetest people."
Chicago, IL
Favorite food: Pasta
"After a late night, I like to head home and make myself something simple from the kitchen -- I especially love to crush a giant bowl of spaghetti carbonara."
Brooklyn, NY
Favorite food: Polenta or pork chops
"After a long night out, I usually crave hearty Italian dishes, like the creamy polenta at The Saint Austere in Williamsburg. I've also been known to sit down with a pork chop for two... If I make it home still hungry, I usually pop a bowl of popcorn to end the night."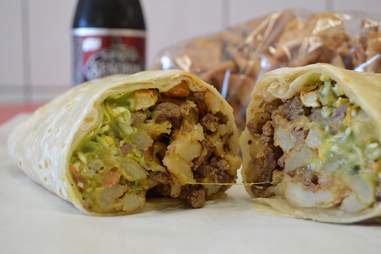 Natalie Holtz/Thrillist
New York, NY
Favorite food: Burrito
"After a good long night of hitting the sauce and listening to music, I head to Zaragoza Deli in the East Village for what's currently my favorite late-night food spot. The menu changes just about every day, but in a perfect world they make me their roasted goat burrito every night. If I'm lucky, they even have some extra goat liver cooking too, which is their son and mine's favorite. It's a damn brick of a burrito so bring a date or an appetite. It's not unusual to walk in at 4am to what appears to be people dancing to traditional Pueblan music. Fortunately for me, it's located just a hop, skip, and a stumble away from my peaceful alleyway abode."
Portland, OR
Favorite food: Fried chicken or tortilla pizza
"My go-to drinking food in Portland is the fried chicken and JoJos at the Reel M' Inn. It's maybe the best dive bar ever. There's a pool table, a jukebox, and Big Buck Hunter. And fried chicken. And one bartender handles all drinks and all kitchen duties. It's amazing. The best thing, though, is the grip of sauces that they give to you with your fried chicken. I'm strictly a Frank's RedHot and ranch person myself. But it's good to know you have options.

"When I'm at home, my go-to is tortilla pizza. I've got that dialed in pretty well at this point. Basically, you use the tortilla as the crust for the pizza but there's lots of things you can do to crisp up the bottom with a little extra fat, and then you run it under the broiler to give it a nice browning on top. I actually recently made a tortilla pizza that was filled with bits of chicken Parm. I rolled it up so it became a little bit like a chicken Parm burrito. It was delicious."

Sign up here for our daily Thrillist email, and get your fix of the best in food/drink/fun.

Kristin Hunt is a staff writer for Thrillist, and went through a pretty intense tater tots phase in college. Follow her to frozen snacks at @kristin_hunt.