Famous Chefs on Their First Nights in the Kitchen
Marcus Samuelsson
Chef and Restaurateur, The Marcus Samuelsson Group
New York, NY
First Night as Executive Chef: Aquavit
"Your very first time in the kitchen, you're simply trying to grasp the thrill of it all. Imagine the sheer maneuvering of smells. Then, when you start as a line cook, you go from not being noticed to being noticed for the right thing. It's a fine line, really. But, at the beginning, if the chef doesn't see you, it's a good day.
"That all changes when you're an executive chef. There are other things at stake. Things you had never even thought about before. And you can't fix it all at once. The fear never goes away. Even today, I battle it by cooking more."
Lesson: "There was a simplicity in becoming a chef in my time. Now, there are more distractions and more pockets to fall into and it can get confusing. Be passionate, find a mentor. You'll get your shot, just don't expect it to happen overnight."
Anita Lo
Owner & Executive Chef, Annisa
New York, NY
First Night in the Kitchen: Garde Manger, Bouley
"I had just graduated college and started to work in August 1988, the start of the longest heatwave. The kitchen was 115 degrees every night, but it was thrilling. Bouley was the first restaurant that was cooking food to order. Back then, that wasn't done, it was a big deal. Plus, we were downtown."
"I worked long hours, six nights a week and I began getting sick because of the heat. I wasn't used to standing so much. My calves were killing me. I also wasn't used to the handwork, so my forearms were killing me as well. But, failure wasn't an option. I ended up developing a red knot in my calf, hot to the touch. My mom was convinced it was a blood clot [it wasn't] and kept on urging me to go to the ER. I don't think I ever went. It just kind of went away on its own."
"As for my cooking, the rhythm came eventually."
Lesson: "If you're not used to it, the physical part will get you. If you want to stick it out, get massages, stretch, put your feet up when you're not working. Otherwise, it's important to do an internship before you go and spend all that money on education to see what you're getting into."
Katy Keefe
Pastry Chef, McCrady's
Charleston, SC
First Week in the Kitchen: Pastry Cook, Lincoln Ristorante
"I don't even remember my first day! I think I was so nervous, I blacked it out! I remember scenes from the first week though. I think I messed up a chocolate pudding recipe every single day. I remember crying in the walk-in with my friend Colleen waaay too many times. I was so green, so earnest, and so overwhelmed."
"I also remember how excited I was. Lincoln was only one year old, and I was so ready for action. I wanted to be in New York working with Chef Capizzi and the team more than anything. Every day was full of learning opportunities and things I had never seen. I literally spent all of my free time thinking about Lincoln: the mise en place I needed the next day, how to earn a spot on the line, and how to work cleaner, better, faster."
Lesson: "Looking back on it, I wish someone had told me to take pride in the small tasks. How you clean a freezer floor and how you wash dishes is just as important as how fast you ice a cake or dice an apple. Consistent integrity is the most important part of working in a kitchen and also the hardest."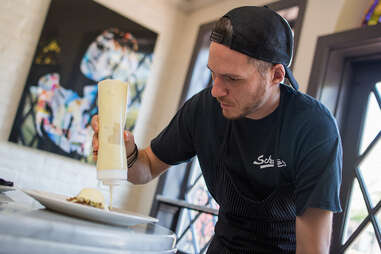 Spike Mendelsohn
Chef and Restaurateur, Good Stuff Eatery | We The Pizza | Béarnaise | Sunny's
Washington, D.C.
First Night in a Professional Kitchen: Externship, Les Crayères
"I had been in the kitchen from a young age, since I come from a family of restaurateurs. I started out washing dishes there. In the professional kitchen, you don't have a life. I knew that going into it and I feared it, so I tried to avoid it as much as possible. I eventually fell right back into it."
"The first kitchen I was a stranger to was my externship in Reims. At the time, under the helm of Chef Gérard Boyer, Le Parc at Les Crayères had three Michelin stars. I applied to work there over the course of nine months. I called the chef at all hours of the day. They would tease me because I was an American. Finally, they accepted me."
"I arrived at the doorstep of the restaurant, expecting a welcome of some sort. I was jetlagged. They asked, 'You're the American? Go put the apron on and start mopping the kitchen floor.' The whole experience was a crash course -- leaving my family, being in a foreign country, having no money. I definitely started at the bottom."
Lesson: "When I was in culinary school, I knew I had a leg up on some of the other students, but that doesn't matter much when you're in the industry because you have to start at the bottom and work your way up."
Jenn Louis
Chef/Owner, Lincoln & Sunshine Tavern
Portland, OR
First Kitchen Experience: Dairy Kibbutz in Eilat, Israel
"I cooked on a kibbutz in Israel between August and November in some of the hottest weather -- 90–120 degrees. Some of my first memories are of the giant, metal potato skinners which would cook and peel the potatoes -- up to almost 100 pounds at a time. I had to clean those potatoes, beforehand. I spent most of the other time making delicious eggy pancakes. Most of the food on the kibbutz was not that great, but a thick, moist pancake that almost reminded me of matzo brei was the best."
Lesson: "The job, while tiresome and not fun, taught me the value of hard work. If the small jobs are messed up, the final product will be a mess, too."
Stuart Brioza
Chef/Owner, State Bird Provisions & The Progress
San Francisco, CA
First Night as Chef/Owner: Opening Night, State Bird Provisions
"I remember the end of the first night being anti-climactic. Nothing felt right or tasted right. And for a long time after, it felt horrible. This continued for a good 30 days. The comfortability of 'hey, this is kind of working' eventually set in."
"But, opening a restaurant isn't like what you see in the romantic movies. There's a ton of unsexy things going on behind the scenes and everything has it's own timeline -- fundraising, contracting, building, hiring, training, writing menus, testing recipes. You're dealing with it all from broken plumbing pipes to food orders. And most of the time, nothing works. You have to deal with issues constantly while still being hyper creative."
"A year and half into it, it really came together."
Lesson: "You're driving the ship and you can't wait for anyone else to lead the way. On the contrary, everyone's waiting for you to say when, where, and how."
Paul Berglund
Executive Chef, The Bachelor Farmer
Minneapolis, Minnesota
First Night in the Kitchen: Prep Cook, Oliveto Restaurant
"After serving as an officer in the U.S. Navy, I found myself at a crossroads in life. I had some previous experience bussing tables and needed a paycheck quick, so I figured I would try it out. After a lot of cold calling and perseverance, I ended up at Oliveto in California. I spent the entire first day -- 8–10 hours worth -- peeling cardoons. I was just relishing the knowledge in this place that was filled with such energy and creativity. I didn't care what I was doing. When I was done peeling all the cardoons, they started steaming them. They weren't coming out to the chef's liking, so they gave up and threw them all away. I didn't care."
Lesson: "Cut yourself some slack, but at the same time the kitchen is not for everyone. It takes a mix of stamina, flexibility, and speed. For people that really love food, there are so many other ways to be a part of it -- private events, catering, cooking schools, private chefs."