Lobster sucks: famous chefs reveal the most over/underrated seafood
Sorry, lobster, but it's time to stop basking in your seafood glory. You were quite a catch, we thought, but now we're moving on.
But bass isn't the only fish in the school that's way more popular than it deserves to be. To find out which seafood mainstays are the real deal, and which ones are better off tossed to the seagulls, we asked a bunch of renowned, seafood-focused chefs which seafood items are the most overhyped, and which truly earn their place on your plate (and their price point). Turns out, sardines are worth their salt.
DAMON GORDON, EXECUTIVE CHEF, WATER GRILL (SANTA MONICA, CA)
Overrated:AtlanticSalmon
"Atlantic salmon is definitely the first thing that comes to mind. It's that fish that everyone knows, that people fall into ordering again and again by default. What people might not know is that generic Atlantic salmon is more mass produced, so the complexities of the flavor profile are not as pronounced as what a wild salmon from the Pacific Northwest or Scotland offers, which is what we offer at Water Grill."
Underrated: Sardines
"They're often looked upon as a low-end product, but they're high in fatty acids, which are really good for you. And there are endless ways to prepare them -- you can grill them, lightly pickle them, and fry them. In fact, growing up, my Mum used to fry whole sardines and give them to us kids and we'd pick them apart with our hands and eat them with lemon and vinegar. Which is why, with Mum in mind, we hope to bring sardines to the Water Grill menu in the coming weeks."
GIUSEPPE TENTORI, EXECUTIVE CHEF, GT FISH & OYSTER (CHICAGO, IL)
Overrated: Lobster
"It's so popular but has little flavor, is very expensive, and the best-tasting pieces are the knuckles, which are very hard to get out."
Underrated:Sardines
"Few people know how to prepare them well. They should be served with no bones and given a quick brine to balance their strong flavor."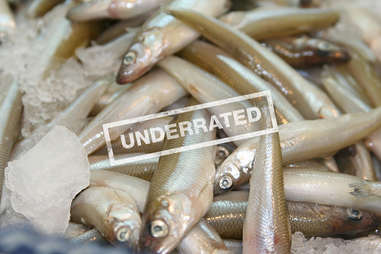 ERIC LEE, CHEF DE CUISINE, JAX FISH HOUSE (DENVER, CO)
Overrated: Salmon
"Salmon is over-fished, overly fatty, and too often overcooked. Big salmon steaks are the obligatory easy choice on any menu from Le Bernardin to Denny's, but salmon is too greasy to be served in such large portions. Smoked, cured, or poached in small portions are the only ways I eat it because it helps cut back on some of the fat and allows the delicate flavor to really shine. Try steelhead or arctic char. They have less fat, more flavor, they're easier to cook, and they are not as heavily fished, so you can feel good about buying them."
Underrated: Smelt
"No one serves smelt anymore. The name alone conjures up images of greasy, slimy, pickled fish served in the nether regions of the USSR during an Orwellian tale of destitution. The thing is, smelt is awesome... mild little fish served dredged and fried with pickled beets or tahini cream: It's hard to beat that. The roe is beautiful and so small and fantastic on sushi, and in other countries they eat the fish with the roe still inside, which seems to me like the best surprise a chef can give you. Smelt fries with Old Bay aioli should be the natural choice at every crab shack from Maine to San Diego."
HUNG HUYNH, EXECUTIVE CHEF, CATCH (MIAMI, FL)
Overrated: Dover Sole
"While it's a great fish, it's not 'the best' fish around like many chefs have traditionally thought. Since it's a small fish, the meat is sweet and tender, but I think any fish that's swimming 10 minutes before it's cooked is the best fish."
Underrated: Rouget (Red Mullet)
"I love this fish because it's so sweet and delicate. It tastes like crustacean. It's a small fish that packs in tons of flavor. You need a very precise and delicate hand to cook this fish, as it overcooks and changes flavors depending on the heat."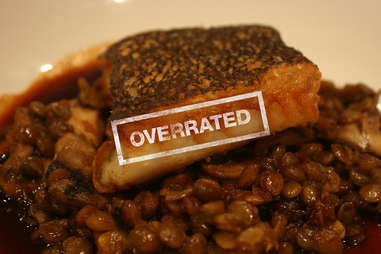 DANNY YE & RICK LIANG, EXEC HEAD CHEF & HEAD CHEF, HARLOW (NEW YORK, NY)
Overrated: Chilean Sea Bass
"The market name is Patagonian toothfish, but in order to make it more attractive they changed the name. It's overfished (now on the Monterey Bay watch list), and only became available after giant commercial fisheries used technology to fish them. They're also pricey and not sustainable. A suitable replacement for Chilean sea bass is sable fish or halibut, which we serve on our menu."
Underrated: Sea Snails or Whelks (or in Italian, Scongilli)
"Whelks are very underrated. Their meat is sweeter, larger, and more plump than escargot or fresh-water snails. They're almost never used, and are worthy of restaurant menus in NYC."
JOHN ONDO, CHEF/OWNER, LANA (CHARLESTON, SC)
Overrated: Flounder
"It's on my menu, and we use wild-caught flounder predominately from North and South Carolina, but it is so boring. It has no flavor and it gets dry in a second. Half of the time it's farm-raised in some tank. I'm fine with my beef, poultry, and pigs being farm-raised, but not my fish! If I see one more whole fried flounder with whatever glaze on it, I think I'll dine elsewhere. It's the boneless, skinless chicken breast of the sea."
Underrated: Porgy
"You hardly ever see porgy on a restaurant's menu... specials maybe, but not on the actual menu. Never. They are smaller fish -- about the size of a man's hand with his fingers extended (not so great when you have to clean 40lbs) -- so they are great for cooking whole. They are also great filleted and grilled or sautéed. It has a mild, sweet flavor that is similar to snapper. Porgy is rather abundant and in no danger of being overfished."
DUNCAN BIDDULPH, EXECUTIVE CHEF, KINMONT (CHICAGO, IL)
Overrated: Fancified Seafood
"The most overrated seafood to me is super-fancy seafood -- I don't get why it's been decided that certain seafood will be held in overly high regard. Lobster is, and can be, really delicious, but everyone thinks it's this super-fancy ingredient, and it once was very cheap and considered a low-class option. It's good when you eat it chilled or steamed with butter, but there are other things you can do with it when you don't have to regard it as so precious. Who doesn't love a lobster roll? I also really like lobster fried rice. Other examples of overrated fancy seafood are caviar and sturgeon. Sturgeon is really expensive, but it's actually been around for hundreds of thousands of years, and is actually very earthy tasting."
Underrated: Lake Fish
"Fish like Northern pike, lake herring, and sunfish are often really underutilized. The flavor profiles on these are all similar, but fishing for them is great fun for sportsmen -- there are some fighters in the Great Lakes. Lake fish hasn't been fancified too much. People outside the Midwest don't see these types of fish on menus often, but they're super delicious."
ERIC DONNELLY, EXECUTIVE CHEF, ROCKCREEK SEAFOOD & SPIRITS (SEATTLE, WA)
Overrated: Halibut
"The most vanilla species of all sea-dwelling fin fish, and also a menu killer -- put halibut on your menu and sit on everything else. Also, some chefs are serving this bottom-dweller raw these days, which, if not cut right, can be outright offensive, stringy, and gummy. Now, being from the Northwest, we grow up eating this so called wonder of the sea -- and God knows Grandma loves it -- but there are so many other fish in the sea!"
Underrated: Sardines
"Grilled, sautéed, or baked in any simple presentation (such as sea salt, lemon, and olive oil), this salty, oily jewel of the sea never disappoints. I also enjoy them grilled and served with a breadcrumb persillade. The sardine is a great protein that we at RockCreek serve in a variety of preparations, and is also one of the most healthy proteins we humans can eat."
AUSTIN KIRZNER, EXECUTIVE CHEF, RED FISH GRILL (NEW ORLEANS, LA)
Overrated: Mussels
"By the time you get past the heavy cream, garlic, wine, parsley, and any other ingredients coating the mussels, you can hardly taste the meat. Their natural flavor is masked, unlike other seafoods, especially Gulf seafood, where their inherent taste profile is at the forefront of the dish."
Underrated: Tripletail Fish
"Tripletail fish is elusive to some -- they can be hard to catch, and are a little intimidating in whole form, with three scaly fins that give the appearance of three tails (hence the name, 'tripletail'). They are commonly brought in along the East and West coasts of Florida. Once you get past its prehistoric exterior, pearly white meat awaits, which is sweet, flaky, and similar to a prime-rib cut of grouper. Its versatility allows it to be served a number of ways, whether broiled, baked, sautéed, or simply grilled."
JOE MAGNANELLI, EXECUTIVE CHEF, FISH PUBLIC (SAN DIEGO, CA)
Overrated: Salmon
"I like salmon, but I think it's overused when there are so many other good fish options out there."
Underrated: Anchovies
"Anchovies get a bad reputation because often people perceive them as salty, boney, and from a can. Anchovies can actually be extremely versatile, and can be used for flavor in dressings, salads, and pastas. I even enjoy eating a few fresh white Spanish anchovies on their own."
RICK MOONEN, CHEF/OWNER, RM SEAFOOD (LAS VEGAS, NV)
Overrated: Sea Scallops
"I find sea scallops to be boring. As an appetizer, indulging in one or two scallops is enough. After a few bites, they become bland and I am over them already! I always refer to sea scallops as the marshmallows of the sea."
Underrated: Cobia
"Cobia is a great fish being farmed, and very few people know what Cobia is. It's the veal of the ocean. It's delicious. The texture of it, the flavor of it, you can grill, sauté, broil, fry it... whatever you want. It's firm but flaky, and it can really carry a lot of different flavor profiles. It's very hard to screw it up."
TODD MITGANG, EXECUTIVE CHEF, CRAVE FISHBAR (NEW YORK, NY)
Overrated: Chilean Sea Bass
"About 10 years or so ago, Chilean sea bass was all the rage. Yes, it is super rich and fatty, and it is a safe choice for untrained cooks, as you cannot overcook this fish if you tried. While diners love the buttery, rich taste, they may not know that this fish enters US markets headless, gutted, and FROZEN. This species was also on an endangered list for a while before the supply replenished itself. There are some fantastic alternatives like Alaskan black cod."
Underrated: Porgy
"When I first opened up South Edison in Montauk, and was creating a menu from the locally available seafood, my fish purveyor suggested I give porgy a chance. Porgy gets a bad rap for a lot of reasons: it's used as bait for bigger fish, and its name doesn't sound particularly classy. Porgy? Scup? I totally understand why this fish gets overlooked, but this needs to end. Porgy is sustainable, and it is fished off of our local coasts. It is sweet, mild, has edible skin that gets nice and crispy, and right now it is more affordable than other varieties that are similar in flavor like red snapper. The proof is in the pudding. Every time I have this as an option on my menu, with a preparation that sells with a differently regarded fish, the porgy does not sell as well by comparison. What a shame."
Rachel Freeman is a food/drink editorial assistant at Thrillist. She's the person who always wants anchovies on the pizza, and is glad they, and their sardine brethren, are finally getting the recognition they deserve. Follow her to small, salty fish at @rachelifreeman.