$17 Pickles and Other Confusingly Expensive Artisanal Foods
For every food product that exists, chances are there is someone in America selling an "artisanal" version of it, and it's probably a guy with an old-timey mustache working in a condemned warehouse in Brooklyn. The fact is, when it's on a food label, the word "artisanal" doesn't really mean anything... except maybe "expensive." Here's a look at some basic foodstuffs -- like, super basic -- that get a big price hike from the artisanal movement.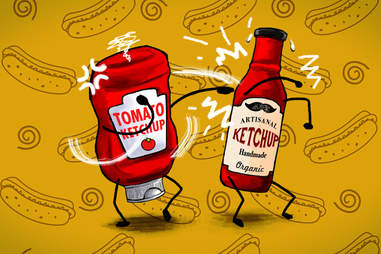 Jennifer Bui/Thrillist
Ketchup
What it is: tomatoes and additives
Who makes a fancy version: Catskill Provisions
How much it costs: $14 for 2 12oz bottles
What?! Why? Unlike other people at Thrillist who hate fancy ketchup and are not to be trusted when it comes to tomato-based food opinions, I have a bottle of local artisanal ketchup in my fridge and I like it just fine. You're paying extra for Catskill's catsup because it lacks preservatives or high-fructose corn syrup. You're also paying for that stubby-type jar that screams, "I am expensive!" whenever I see it on the shelf at any fancy grocery store.
 
Jam
What it is: cooked fruit
Who makes a fancy version: The Jam Stand
How much it costs: $8 per 8oz jar
What?! Why? Once again, you're paying for flavors not typically seen in your local supermarket, and with names that look like they were off a Fall Out Boy album in 2005: "Not Just Peachy Sriracha, Jam," "You're My Boy BLUE-berry Bourbon Jam," and "Fig Tamarind Spread." They need to work on that last one.
Pickles
What they are: pickled cucumbers
Who makes a fancy version: The Real Dill
How much it costs: $17.25 per 32oz jar
What?! Why? The Caraway Garlic and the collaboration Briners & Brewers pickles they make with breweries are incredible. You're paying for their unique flavor combinations. Are they more expensive than supermarket pickles because The Real Dill had to buy numerous scarecrows to keep away animated pickle-loving storks from eating up their entire supply? Perhaps.
 
Raisins
What they are: dried grapes
Who makes a fancy version: Mojave Gold
How much it costs: $6.99 for 4oz
What?! Why? These raisins don't have to suffer the indecency of being crammed into a tiny red box with other raisins. Nope, they get to hang out on the vine in a bunch, as nature intended. They also claim to have a higher sugar content than any other raisin out there, which is perfect for anyone who thinks raisins aren't sweet enough.
 
Crackers
What they are: baked flour
Who makes a fancy version: Lesley Stowe Fine Foods
How much it costs: $10 per 6oz box
What?! Why? Paying $10 for a few Ritz crackers would be grounds for people to wonder if you've had a concussion, but I'm surprised it's only $10 for "artisan bread flavored with dates and sweet almonds are dusted with coarse sea salt." Make sure to wear your fanciest white gloves when you eat them with cheese... probably Easy Cheese, since you blew all your dairy money on crackers.
Hazelnut spread
What it is: hazelnuts + chocolate + sugar
Who makes a fancy version: Askinosie Chocolate
How much it costs: $13 per 6.5 oz jar
What?! Why? We're such big fans of Nutella here that we figured out ways to combine it with booze. But this spread takes hazelnut spread to the next level, making it from scratch and sourcing hazelnuts from an orchard in Washington. Yeah, it's a few more bucks than Nutella, but if the worst thing about artisanal foods is that it brings more fancy chocolate spread into the world, then I'm okay with it.
 
Mayonnaise
What it is: oil and eggs
Who makes a fancy version: Empire Mayonnaise Co.
How much it costs: $8 per 4oz jar
What?! Why? While you can get a jar of Empire's plain mayo for $5, the real value is in the more expensive jars of white truffle, bacon, red chili, and black garlic varieties. Their entire business model has been parodied on SNL, which is a good sign their product is reaching critical mass. They could be the mayo version of Sam Smith, who no one knew before he was an SNL musical guest, and now everyone's mom makes egg salad sandwiches with him.
 
Salt
What it is: NaCl
Who makes a fancy version: Artisan Salt Company
How much it costs: $14.99 for 6.5oz
What?! Why? The place where you get your sea salt from can effect the taste of said salt. You have the option of getting it from the Mediterranean, Hawaii, France or India. It's important to have sea salt that's more well-traveled than you are, or else why even use salt?
Sign up here for our daily Thrillist email, and get your fix of the best in food/drink/fun.
 
Lee Breslouer is a senior writer for Thrillist, and thinks expensive things taste better. Follow him to falsehoods: @LeeBreslouer.