The Weirdest Foods From the Fancy Food Show
Every year, on the last weekend of June, food producers, tastemakers, and culinary trendsetters from all over the world flock to New York's Jacob Javits Center for the largest specialty food show in the country, the Fancy Food Show. We searched each aisle high and low, leaving no pickle mustard or spicy Thai peanut butter untasted in search of the coolest and weirdest new products ready to take over the market. Here they are.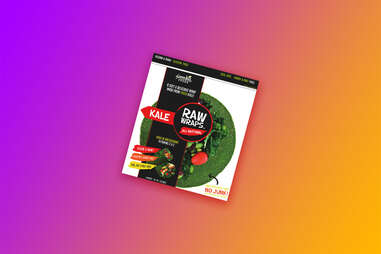 We thought they'd already done everything there is to be done with kale, but we were wrong. As a way to overcome some of her own food sensitivities, holistic nurse Brandy Chappell created these dairy-free, gluten-free, soy-free, nut-free, corn-free, wheat-free, raw, vegan, Paleo wraps. While you won't mistake these for your regular corn or flour tortillas (they kind of taste like vegetable leather), the kale and spinach wraps are sturdy and can hold their own.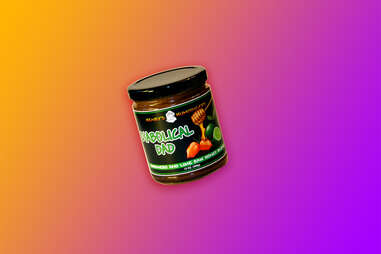 With flavors like cayenne and garlic, chipotle chili and cinnamon, and our favorite, habanero and lime, founder Henry Miller is letting us enjoy the savory side of the sweet sticky stuff. At just 12 years old, Henry started his honey company and has since been on Shark Tank. While these honeys are delicious on their own, with their sweet, spicy tingle, their flavor combinations work particularly well mixed in with meatloaf, brushed over seared salmon, or even on steak.
Two acids definitely make a right. Finally the people of family-run Beaverton Foods, Inc. have enabled pickles and mustard to coexist in the same damn bottle and it's glorious. Think honey mustard-meets-bread-and-butter pickles. This sweet, tangy sauce will be the BBQ go-to, whether it's on your hot dogs or burgers.
Jerky as a trend isn't particularly ground-breaking. We've all had garlic chili pepper-flavored beef jerky or nibbled on some chipotle jerky, but with flavors like BBQ spare rib, Japanese curry, and pho, Lawless Jerky ended up a show favorite. The company prides itself on starting each batch with 100% grass-fed beef and humanely raised pork and adding no artificial additives or preservatives. Translation: the spare rib jerky tastes just like your favorite Chinese takeout ribs. And unlike other tough jerkies, it just melts in your mouth!
As weird as it sounds, drinking vinegar dates back centuries in many cultures and is often believed to have great health benefits. The folks behind Portland, Oregon's Pok Pok Som took their love of drinking vinegar to the next level and wanted to make it available to a larger audience. So they created a line of flavored vinegar mixers ranging from turmeric and tamarind to pineapple and pomegranate. The stuff is strong, highly acidic, and tastes like a fruity vinegar. A small dash of it jazzes up any cocktail, and a shot of it certainly wakes you up more aggressively than an espresso.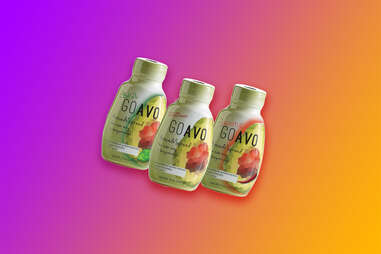 Move over Vegenaise. This egg-free mayo alternative is real and better because it's made with everybody's favorite fruit, avocado. The goal of GoAvo was to create a socially conscious and healthy alternative to mayo, which kind of works -- the green stuff tastes more like smooth guacamole with a hint of vinegar than actual mayonnaise. It does have a third of the calories and still satisfies that creamy, tangy need, though!
Though there's really no appropriate analog for potato chips, everyone wants to find a healthier chip alternative. Seaweed -- which is known to be abundant in protein and vitamins, especially vitamins A, B1, B2, B6, and B12 -- seems to be where it's at. It is also known to have a high content of mineral salts, particularly iodine and iron, and essential amino acids.
Sea's Gift, a Korean-based company, created its line of seaweed snacks with these health benefits in mind but also capitalized on the ingredient's natural, umami-rich flavor. The chips are flavored with mango and chipotle. They evoke the flavor of those spicy sushi rolls with mango... but are a lot crunchier.
Weird or genius? We're not quite sure. Known for its rich shelf-staple stocks, More Than Gourmet took everything you could use to flavor your burger -- Worcestershire sauce, stock concentrate, garlic, onions, chipotles, and mesquite smoke -- and bottled them. Wicked Juicy Burger Sauce is ideal for the lazy cook. All you have to do is squirt the sauce into your ground beef or turkey, mix it up, and grill those bad boys. A little of this strong sauce goes a long way, so we don't recommend eating it on its own.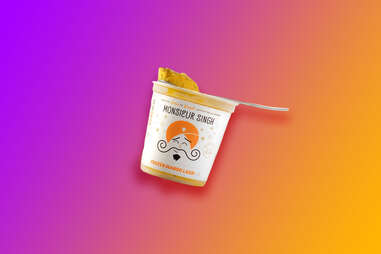 Mango lassis are Indian shakes made with mangoes, yogurt, and often spices and might be the most delicious beverage out there. Monsieur Singh comes to the yogurt market with an interesting claim: "Supermarket yogurts can be difficult to digest. The presence of herbs & spices can help absorb cold & heavy yogurts." And so Monsieur Singh recommends its product as a more digestive-friendly alternative to traditional yogurt. Lassi yogurt is super tasty and with its abundant spices, certainly a different flavor sensation than any frozen yogurt out there. If you're not a fan of heavily spiced foods, then lassi frozen yogurt probably isn't for you.
It's time to think outside the conventional smooth, chunky, and occasional chocolate-mixed flavored peanut butters. Eliot's Adult Nut Butters, the small-batch, savory nut butter company from the Eliot neighborhood of Portland, Oregon, decided to do just that. Flavors such as Indian-flavored garam masala, honey chipotle, and our favorite, spicy Thai peanut butter, are so flavorful, they are just one step from becoming a kick-ass dipping sauce, or starring in super-interesting peanut butter cookies or peanut butter cups. Let's just say these sure ain't Smucker's.
Cold-brew ice pops are the perfect refreshing pick-me-up for the summer. Rebecca and Dan Dengrove, a brother-and-sister team, started Brewla in order to provide healthy, all-natural ice pops. Their pops are made by combining high-quality teas, coffees, or botanicals with fresh fruit juices, purees, or hormone-free organic milk and are enhanced with vitamins, minerals, and antioxidants. Not a coffee fan? Try their strawberry and hibiscus tea instead.
Sign up here for our daily Thrillist email, and get your fix of the best in food/drink/fun.
Julianne Feder is a contributing writer for Thrillist. The Fancy Food Show may be the greatest three days of her life. Follow her @TheGastroNerd or watch her on YouTube to get more nerdy food insights and other cooking tips.