Our nation's restaurants are always brainstorming new ways to make sure Americans are never hungry, whether it's with comically large portions, disguising their food as other food, or by turning shameful late-night binge eating into something called "FourthMeal"

Here's the best of what the chains came up with in the past month:
Recommended Video
Forget The Sandwich Debate. Is a Hot Dog a Snack?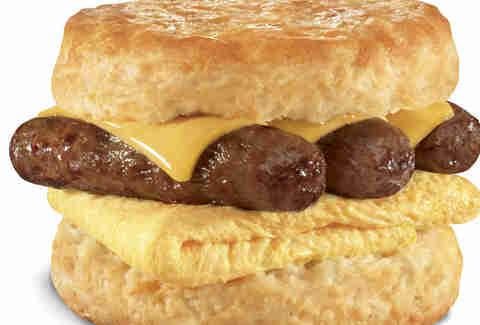 Eat It: Maple Sausage, Egg, & Cheese Biscuit
Where To Get It: Hardee's/Carl's Jr.
The Details: Three maple sausage links are joined by a slice of American cheese and eggs on one of Hardee's "Made from Scratch" buttermilk biscuits. They call it "a culinary ode to Fall", while we call it "something that would taste very good the morning after drinking too many hot toddies."
Eat It: Spicy Chicken Sandwich, Island Fire Spicy Chicken Sandwich, Island Fire SuperSONIC Cheeseburger, and Southwest Chipotle Breakfast Burrito
Where To Get It: SONIC
The Details: SONIC's bringing the heat this month to counteract the dropping temps. They've got a chicken sandwich topped with a spicy cayenne pepper spread, and an even fiery-er Island Fire version with a sweet and spicy habanero sauce. Their new cheeseburger sports smokey cheddar/ pepper jack cheese and that same sweet and spicy habanero, or for a new morningtime taste, the burrito's smoked chipotle sauce should suffice.
Eat It: Pretzel Pub Chicken Sandwich
Where To Get It: Wendy's
The Details: First it was the Pretzel Bacon Cheeseburger, and now it's the chicken sandwich's turn to get pretzel bun'd. This comes topped with muenster, honey mustard, and a "warm cheddar cheese sauce" -- get all the great taste of movie theater nachos, now available on a sandwich!
Eat It: Pumpkin Smash Smoothie
Where To Get It: Jamba Juice
The Details: While we contend Jamba Juice is better with booze, this Fall treat offers up real pumpkin blended with frozen yogurt, cinnamon, nutmeg, and soy milk. It's also got 75g of sugar, which is equivalent to eating 43 pieces of candy corn. Drink up!