2014 in fast food, from Quesaritos to pretzel pizzas
2014 was a prosperous year if you were in the business of speculating about new Star Wars movies, or, alternatively, if you were a fan of fast-food restaurants coming out with crazy new stuff. Pizza Hut totally rebranded, Taco Bell got even wackier, and Burger King merged with Tim Hortons and started selling Buffalo sauce donuts. Yeah, 2014 kinda rocked. Here are the year's best fast-food stories.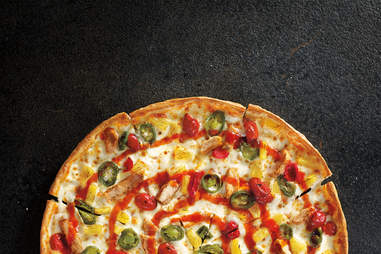 Pizza Hut
Pizza Hut did a complete menu overhaul
Pizza Hut decided to go the route of Domino's this year and added a ton of new menu items, including different types of crust (pretzel or toasted Parm, anyone?), sauce drizzles like Buffalo and Sriracha, and some pretty out-there flavors like curry.

Starbucks' holiday menus captivated millions
Everyone knows about Starbucks' Pumpkin Spice Latte -- or PSL, as it's known to people who are so deep in withdrawal that they can't utter its full name. But they also introduced a new winter drink, the Chestnut Praline Latte, and brought back the Eggnog Latte due to an outpouring of rage on Twitter following its discontinuation. They also made a beer-flavored coffee with the Dark Barrel Latte.
Liz Childers
Fried chicken rose from the dead
Two superb menu items -- Burger King's Chicken Fries and KFC's Double Down -- got resurrected this year, thanks in no small part to the tireless efforts of people who spend a lot of time yelling things on Twitter. Thanks, hangry folks!
Dunkin' Donuts tried to get in on the Cronut game
After its success in Korea in replicating the highly coveted Cronut formula, Dunkin' Donuts brought its new game-changer to the US... and it actually got pretty good reviews!
Papa John's tried to take itself higher
The Frito Chili Pizza was a stroke of genius in catering to a -- AHEM -- certain demographic, and somewhat leveled the playing field with Pizza Hut.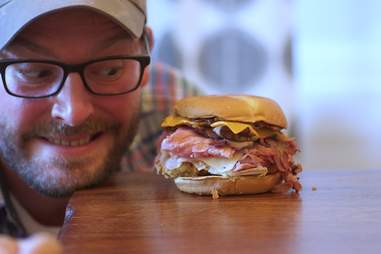 <br /> Andy Kryza
Arby's got a Meat Mountain
Every meat on the menu. One bun. We tried it. Then we went to sleep.
Wendy's decided to go low-and-slow
Wendy's new BBQ menu inspired with a whole bunch of pulled pork sandwiches, pulled pork BURGERS, and their crown jewel: the beautiful pulled pork cheese fries. We made a Texan eat them, just for fun...
 
Andy Kryza
Little Caesars tied the knot with pretzels
Nobody seemed to want to make a normal-crusted pizza this year, as Little Caesars was the first of the bunch to experiment with a pretzel-crusted pizza, which has cheddar cheese as a sauce base. Unsurprisingly, it goes great with beer.
 
White Castle turned even more things into sliders
White Castle is more than just burger sliders now -- the chain released a slew of Italian-inspired Parmesan sliders in addition to some Sriracha-sauced ones. Way to class it up, Whitey.
Adam Lapetina is a Food/Drink staff writer for Thrillist, and was fortunate enough to have taste-tested a fair share of this stuff. Read his musings at @adamlapetina.