Each month, our nation's chains feature new menu items designed to make us catch our breath, and not just because speed-walking to the counter makes us winded. Get ready for an assault of burgers, sandwiches, and desserts newly ready to fill up your precious stomach real estate.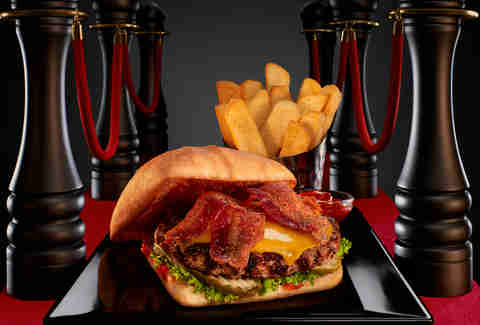 Eat It: Smoke & Pepper Signature Burger
Where To Get It: Red Robin
The Details: Inspired by a chef's winning burger at the Food Network South Beach Wine & Food Fest, this half-pound Black Angus burger is seasoned with Alderwood-smoked sea salt, and is made extra delicious with black-peppered bacon, sharp Cheddar, and Smoke & Pepper ketchup, all on a ciabatta bun.
Eat It: Jalapeño Kicker sandwiches
Where To Get It: McDonalds
The Details: Unfortunately, these bad boys are currently only being tested in CO and MD, but if you happen to be in those states, enjoy a Quarter Pounder patty or crispy chicken dressed up with cream cheese sauce, jalapeño pepper jack cheese, deep fried jalapeño crisps, and pickled jalapeño slices. For fun, try ordering this sandwich without jalapeños and see what happens!
Eat It: Natural Cut Fries, Holiday Mint Shakes and Sundae
Where To Get It: SONIC
The Details: On the fry side of things, SONIC leaves part of the potato skin on their new fries to give your mouth the strange feeling that it's eating a vegetable. For dessert, try the fresh-breath inducing Vanilla Holiday Mint Shake with crushed holiday mints, or the Chocolate Holiday Mint Molten Cake Sundae, with molten chocolate cake, hot fudge, mints, and ice cream.
Drink It: Red Velvet Latte
Where To Get It: Dunkin' Donuts
The Details: A sweeter-than-sweet concoction with red velvet syrup on top that'll pair nicely with their red velvet donuts.
Eat It: BBQ Rib
Where To Get It: Burger King
The Details: Everyone has an opinion on McDonald's McRib, but there's also been buzz at BK's take on the rib sandwich. Like the McRib, it's boneless and only available for a limited time. Unlike the McRib, no one has posted a photo of it frozen yet.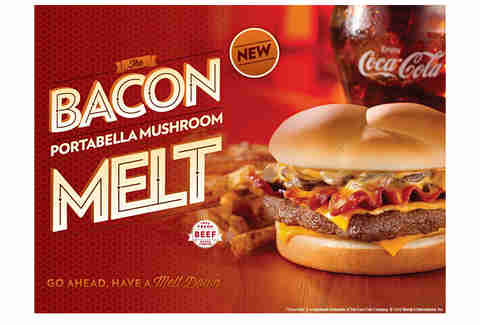 Eat It: Bacon Portabella Melt
Where To Get It: Wendy's
The Details: Everyone's favorite pigtailed gal (no one likes you, Pippi!) brought back the bacon portabella melt burger with 1/4lb beef, creamy cheddar cheese sauce, bacon, American cheese, and slapped it on a new "French-style" brioche bun.
Eat It: Sriracha Shrimp
Where To Get It: Panda Express
The Details: The Chinese food joint tosses large shrimp, string beans, and red peppers in a wok with a sauce so delicious, people are moved to make art about it.
Eat It: Sriracha Steak Melt, Sriracha Chicken Melt
Where To Get It: Subway
The Details: Hurry to the ubiquitous sandwich chain before the end of the year to Jared off all that weight you gained by eating those jalapeño burgers snap up their spicy Sriracha subs, both of which feature meat, peppers, and pepperjack cheese.