The fastest-growing restaurant chain in America is pretty racy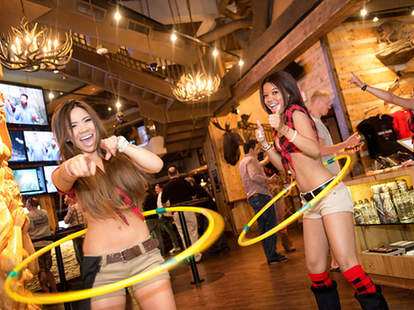 No, it's not Nude Chipotle (although there's an interesting restaurant concept): the fastest-growing chain in America is "breastaurant" Twin Peaks, based on data from last year showing revenues of over $165mill, with each location bringing in around $3.6mill. The mountain lodge-themed chain, a direct competitor with Hooters, is based in Texas, where it got its start in 2005 -- and describes itself as "the ultimate man cave", despite not being furnished entirely by Ron Swanson.
Some key features of their business model are attentive service, sports bar fare, like ice-cold beer and BBQ pulled pork nachos, and, uh, scantily clad waitresses. As of right now, their 57 locations are mostly concentrated in Texas, the Southwest, and the Midwest, though it's probably only a matter of time before they expand elsewhere in the country. You can check out their planned openings here, so be on the lookout.
Adam Lapetina is a food/drink staff writer and the future founder of Nude Chipotle. Read his musings on Twitter at @adamlapetina.