Fat Kid Fridays, April 11th edition: The week's most ridiculous eats, ranked by calorie count
When it comes to detecting indulgent, fatty foods, Fat Kid Fridays has honed superhuman abilities. We can see a chocolate cake through concrete walls, and detect fried chicken from miles away. Whether we use these powers for good or evil is subjective: you'll either praise us for unleashing upon you a breakfast sandwich made of cinnamon rolls, or you'll curse us all the way to the gym. This week, we've got that, and tater tots loaded with pork belly. So yeah, maybe we are evil. But evil tastes way better than good does.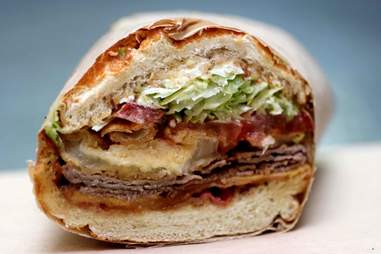 Joe Starkey
4. Jon Lum
Ike's Place (San Francisco, CA)
Approximate calorie count: 1,042
Sure, Ike's has some of the best sandwiches in SF, but their secret menu is the stuff of legend (hero sandwiches get remembered, but legends never die, as they say). Take this beaut loaded with thinly sliced rib eye, bacon, onion rings, and cheddar. As far as SF legends go, it's way better than the Birdman of Alcatraz... mainly because rib eye is better than chicken.
But if chicken's your thing, Ike's secret menu also has a chicken parm with ranch...
Naomi Bishop
3. Dirty Tater Tots
Swingin' Wings at Safeco Field (Seattle, WA)
Approximate calorie count: 1,184 
Call us bandwagon fans, but the Mariners' new food roll-out has caused us to switch baseball allegiances. And thanks to this tasty tater tot, smoky pork belly, pickled pepper, and Beecher's cheddar combo, we're feeling pretty guilt-free about that. Unlike the emotions we feel when we think about how our freshman-year roommate's bags of frozen tots mysteriously disappeared around 3am most weekends (sorry!).
The Mariners' new food also includes deep-fried cheese curds AND Dungeness crab rolls...
2. Cinnamon Roll Breakfast Sandwich
Sea & Smoke (San Diego, CA)
Approximate calorie count: 1,396
What do you do when you've already made a name for yourself in the cinnamon roll world? You turn the icing-swirled buns into breakfast sandwiches, obviously, since bread is boring and adding a fried egg, bacon, and cheese-topped ham is just about the only way to improve toasted halves of a cinnamon roll. 
The step-by-step photos are the things of breakfast sandwich dreams...
1. Horseshoes
D'Arcy's Pint (Springfield, IL)
Approximate calorie count: 2,144
Since this regional specialty is basically the glorious lovechild of nachos & cheese fries, we're not sure why it isn't an American classic. Pub owners everywhere else, let Springfield teach you something important: Grab two hunks of Texas toast, top them with meat -- corned beef, hamburger, Italian sausage... it doesn't matter -- add enough crinkle-cut fries to satisfy a Little League team, and then tuck that all in with a smothering blanket of cheese sauce. It's so indulgent, Homer would be tempted to claim the Illinois capital as his own Springfield and trade in Moe's for D'Arcy's Pint.
D'Arcy's is just one of the best places to chow down outside Chi-Town...
Liz Childers is a food/drink editorial assistant at Thrillist and would be totally fine with all her food being smothered by cheese sauce. Follow her to cheesy regional specialties at @lizchilders1.