This week, we learned that kids who resist a marshmallow now in favor of two treats 15 minutes down the line are the smartest of all the treat-eating kids. But resisting a single marshmallow is one thing, and resisting a plate of carne asada & chili cheese-smothered fries or a hot dog/burrito mashup is another. Those kids wouldn't have stood a chance.
Fair warning: you risk a heart attack just by scrolling downward.
Recommended Video
Acquired Taste: Blood Rice Cakes With Timothy DeLaGhetto and Justina Valentine
4. Joy's House Burger
Burger Joy (Atlanta, GA)
Approximate calorie count: 1,035
We've all been there: your phone says 3am, and you have to find food, but decisions are way too hard at this point in the night. To save you the brain cells you didn't already kill during the night, Joy combines a beef patty and a fried chicken fillet into one burger. It's a no-brainer.
ATL also has a juicy brisket burger and VooDoo's Fat Elvis Burger...
3. TNT Super Dog
The Slaw Dogs (Los Angeles, CA)
Approximate calorie count: 1,284
Throwing its sombrero in the ring for top burrito, while also proving hot-dog buns are inferior to cozy tortilla bundles, The Slaw Dogs tosses all possible (and not possible) dog toppings into one concoction: a foot-long sausage, chili cheese, pastrami, and fries. Plus, there's an optional fried egg to top it off, like a beautiful halo granting sainthood to the holy franken-dog-burrito.
LA has a bunch of awesome dogs we're drooling over...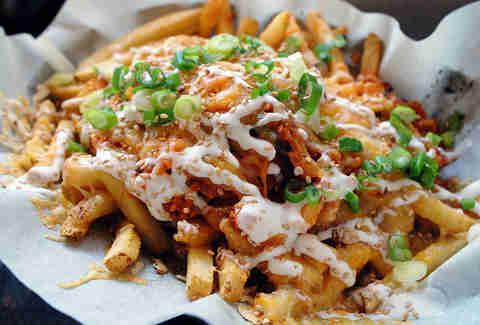 2. Kimchi Fries
Del Seoul (Chicago, IL)
Approximate calorie count: 1,486
At first glance, these Korean-inspired cheese fries are healthy (cabbage!), and we've heard fermented foods are super trendy and also good for you. But the spicy kimchi is spread over a bucket of fries larger than your head and there's pork belly, two kinds of melted cheese, and sour cream mixed in. 
These other 13 fries are also drool-worthy...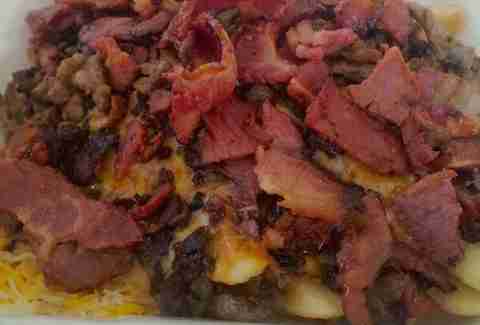 1. DUI Fries
Dino's Chicken and Burgers (Los Angeles, CA)
Approximate calorie count: 1,580
A more appropriate name? ICU Fries. Because eating a bucket of fried spuds buried in an avalanche of chili, cheese, carne asada, and pastrami has a 900% higher probability of giving you a heart attack than anything else on this list. We know, because we received a B- in science class in 10th grade.
We found the second-best order at 10 other LA restaurants...
Liz Childers is a food/drink editorial assistant at Thrillist and would not be able to give up DUI Fries for 15 minutes, but would feel badly if her parents thought she'd do badly on her SATs because of it. Follow her to chili cheese-covered standardized tests at @lizchilders1.