As we reach summer's twilight and the weather starts to cool, it's worth noting a few things: 1) people will no longer be required to see you with your shirt off, and 2) that means you can eat all of these glorious Fat Kid foods. This week's caloric explosions include a hot dog covered in poutine, plus something called a "Kill it Skillet", which won't kill you, but might murder your dreams of going swimming without wearing a T-shirt over Labor Day. Time to invest in a fall wardrobe of stylishly loose-fitting mock turtlenecks.
Recommended Video
The Best Vietnamese Spring Rolls in NYC
4. Poutine Hot Dog
Sportservice (address and info)
Detroit, MI
Approximate calorie count: 960
Why would you eat your gravy and cheese curd-soaked fries with a fork when you can have a perfectly delicious, perfectly American vehicle to bring that Canadian goodness straight to your mouth? A snappy frank improves all flavors, and is the most efficient way to demolish the most calories as quickly as possible. Which is to say, we're pretty into this. 
We've got more gravy and cheese curds right this way...
3. Roast Beef 1000
Cutty's (address and info)
Boston, MA
Approximate calorie count: 1,012
The mesmerizing thing about Cutty's famous roast beef monster is that we've never been able to decide on our favorite part. There's the giant layer of crispy fried shallots that cuddle up on a bed of American cheese. And then, of course, there's the rare, roasted beef chuck that's thinly sliced and bursting with flavor from an overnight dry cure. Maybe if someone could ship us a minimum of three of these behemoths, we could take another stab at deciding. You know where to find us, Cutty.
We're also pretty into Boston's signature clam chowder...
2. Kill it Skillet
Nage (address and info)
Washington DC
Approximate calorie count: 1,120
This mish-mash snack makes just as much sense for 3am drunchies as it does at 3pm when you need to soak up all those remaining fumes the next day. But we really don't care about that confusion, because how can you have feelings when you're staring into the beautiful, sizzling symphony of mac & cheese, bacon, truffle fries, and a sunny-side up egg. Get ready to say goodnight, even if it's the afternoon. 
There's no shortage of fat-tastic snacks in DC...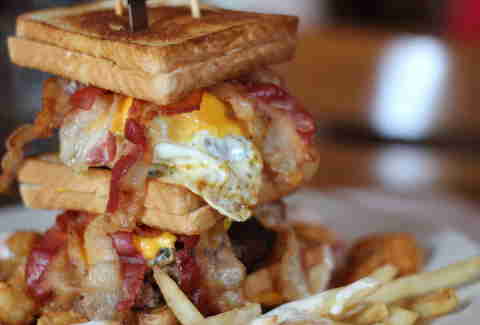 1. The Triple Coronary Bypass (aka The Super Stack Burger)
Vortex Bar & Grill (address and info)
Atlanta, GA
Approximate calorie count: 4,172
Obviously, the eatery that touts deep-fried, bacon-wrapped hot dogs as totally normal menu items (have we mentioned we feel a deep, lasting connection to the Vortex?), has a food challenge dubbed after the emergency surgery looming in your future. Just look at the grilled cheese buns of this double-decker bacon, American cheese, and fried egg burger. Oh, and all the cheese sauce-covered spuds that you'll absolutely have room for after the burger, because screw it... that hospital bill's gonna be the same no matter what.
You'll need a triple bypass after all of ATL's food challenges... 
Liz Childers is an editorial assistant for Thrillist eat/drink, and had two bacon-wrapped dogs last time she was at the Vortex. She regrets NOTHING. Follow her: @lizchilders1.