Labor Day weekend is here, which means you get an extra day off from work. Which means you'll probably be outside. Which also means you'll be super active and burn off like 30,000 calories just playing horseshoes. Which definitely means you need to start storing calories for that exertion... so embrace our weekly celebration of chubby children by ogling the hell out of everything from pizza with French fry crust to a fried chicken and waffle CONE so damn sexy, it repeatedly ignores late-night sexts from George Clooney. And we're talking Golden Girls-era Clooney, so you know it's serious.
Recommended Video
'Orange Is the New Black's Jackie Cruz Discovers NYC's Hidden Pizza Scene
4. Chicken and waffle cone
The Brooklyn Star pop-ups (address and info)
Approximate calorie count: 917
Because eating regular chicken strips wasn't indulgent enough, The Brooklyn Star has thankfully launched this rendition of the ol' chicken and waffle, which layers mashed potatoes, slaw, chicken strips, and sauces into an ice cream cone so you don't even need a fork -- or even two hands! -- to get down with greasy fried goodness. Now, you can lay in bed, play video games, and eat fried chicken with zero dishes. You might want a shower afterward, though.
There's more fried chicken where that came from...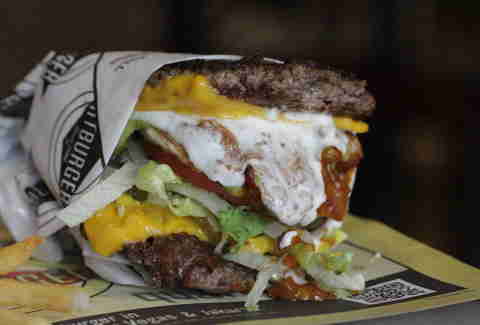 3. Loaded Skinny Burger
Fatburger (address and info)
Approximate calorie count: 969
You know how your high-school teacher told you not to believe everything you read on the Internet and you were all like, "WIKIPEDIA SAYS SO!"? Yeah, this burger is not skinny. But it does trade its buns for burgers, and it looks pretty sexy with all that guac, crispy bacon, melty cheese, fried egg yolk, and hot chili running out of it. So, yeah, we're fine with the way it tried to lie to us. 
Here are other not-so-skinny burgers...
2. Smothered Mexican hamburger
The Original Chubby's on 38th (address and info)
Approximate calorie count: 970
Blame it on Colorado's affinity for recently legalized substances, but Denver's smothered hamburger does a damn good job of sating even the most extreme fits of hunger. Rather than the basic burger the rest of us fine folks eat, the beef mixes with beans and takes its bread burrito-style, then gets doused in green chile sauce. The dish is basically a hybrid of a wet burrito and the deliciously messy Slopper burger that comes out of Pueblo, CO. And Colorado certainly knows a thing or two about hybrids. 
Check out Denver's other signature items here...
1. French fry pizza
Foodinese (info)
Approximate calorie count: 2,004
While you'd normally not want to touch anything thrown together from the remnants of someone's deep freezer -- freezer-burned crab puffs are not snow crab, dude -- the French fry pizza will, at least, make you want to befriend more 19-year-olds with regular cases of the munchies. Because we can only assume that's how this pizza that has a 2lb bag of frozen fries as its base came into being. Either that or... nope, that's totally how it came into being. 
We recommend chowing down on this whole. Don't share it. Seriously... 
Liz Childers is a food & drink editorial assistant at Thrillist, and would like a fried chicken waffle cone for each hand, please. Follow her at @lizchilders1.