Don't look now, but Andy, your food snob co-worker who always "throws together" elaborate lunches to casually Instagram, is judging your turkey and cheese sandwich. Actually, he tends to judge anything that doesn't include the words "truffle", "reduction", or "organic", so why not roll into the office with something that'll cause him to drop his artisanal salt shaker in shock? Something like a bucket of pizza. Or a burger with Hot Pocket buns. This week's lineup of hyper-caloric foods is enough to tempt even the most staunch food snob, and steal all his Instagram followers in the process.
4. Fried Chicken Donut Sandwich
Do-Rite Donuts & Coffee (address and info)
Chicago, IL
Approximate calorie count: 612
While we normally tout the life motto "the fatter, the better", we have to give a hat tip to this sandwich. Since this spicy, buttermilk-brined fried chicken fillet and glazed donut beauty is a mere 612 calories, you can eat at least four more. And that's probably how many you'll need to let your taste buds fully experience the way the juicy, tender cutlet, sweet glaze, crisp lettuce, and pickle brine combine into weird-sandwich heaven.
Or you could start sampling these other donuts, too...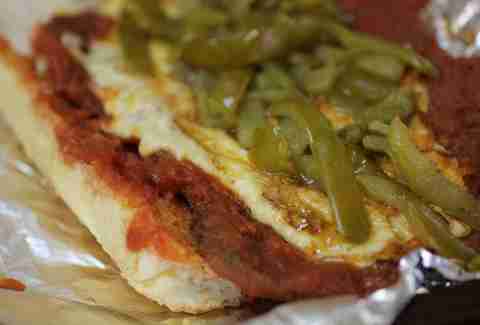 3. Breaded Steak Sandwich
Johnny O's (address and info)
Chicago, IL
Approximate calorie count: 902
This sloppy, soupy masterpiece is exactly what it sounds like. And the real travesty is that it doesn't exist everywhere. Skirt steak gets breaded and fried -- the proper treatment for all well-loved foods -- and makes its home beneath an incredible layer of melted cheese, peppers, and tangy tomato sauce. Bring a bib.
Chicago's other classic sammies aren't holding back on the heft either...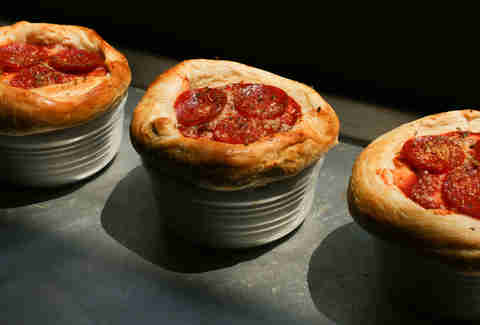 2. Pizza Pot Pie
Thrillist
Approximate calorie count: 939.75
Given our over-zealous gluttony and enthusiasm for the carnivorous lifestyle, it only makes sense that our first in-house recipe at Thrillist is a pizza-topped pizza. The bottom pie is basically a meaty deep-dish mess of Italian sausage, peppers, and onions, but you can only get to it through a fluffy pepperoni pizza topper. Did we mention we're also geniuses? Because we're geniuses.
Grab the recipe here so we can all indulge/get fat together...