Memorial Day marked the beginning of beach season... especially for people who don't wear T-shirts in the pool. For the rest of us, longer days simply mean more hours to demolish things like a 7lb, six-patty burger topped with poutine and pulled pork, or just lay low with a three-flavor banana split. You might need a bigger T-shirt next time you hit the pool.
Recommended Video
These Tacos Are Made for Dunking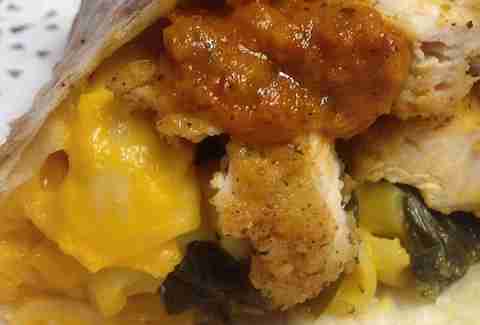 2. Whole Peking Duck
Decoy (New York, NY)  
Approximate calorie count: 2,000
Sure, it's meant to be shared with the table, but have you ever tried a slice of juicy duck breast enclosed in a thick layer of skin that is perfectly crispy and brown thanks to duck fat bubbling up while the bird cooked and then said, "Oh, yeah, I'm going to stop eating now"? Exactly. And it won't happen this time either, so just get your mind set to man up and tackle this crispy baby solo. 
The other new additions to NYC's restaurant line-up are also stellar...
1. Da Ultimate Dirty Burger Challenge
Big Chris BBQ Smokehouse (Barrie, Ontario)
Approximate calorie count: 7,622
In the great continental war of fattest country, Canada has politely sat back and let the US and Mexico fight it out -- but now we know what the Great White North is truly capable of, thanks to this monster of a burger that cuts more like a giant birthday cake (editor's note: BBQ sauce > icing). This monstrosity comes packed with six 8oz patties, 2lbs of pulled pork, a vat of poutine, and bacon and cheese layered on every prime-rib patty. We never thought we'd say this... but you win, Canada. 
We've also got Ontario options outside Toronto that won't send you to the doctor...
Liz Childers is an editorial assistant on Thrillist's national food/drink team. Her birthday is in July. Please contact her at @lizchilders1 to get shipping information for the bacon-cheeseburger-pulled pork-sandwiches you would like to send in lieu of cake.