The Week's Most Ridiculous Eats, From Beer & Bacon Onion Rings to a Creamy Apple Pie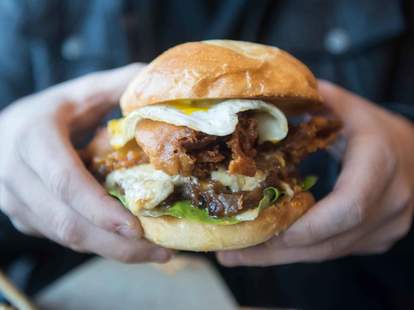 In the Thrillist Justice System, fat-based offenses are considered especially delicious. In America, the dedicated weekly column that investigates these caloric delicacies is called Fat Kid Fridays. These are our findings. DUN DUN.
Today is Mariska Hargitay's birthday (didn't you know?!), so in honor of SVU's Detective Olivia Benson herself, we've got a plate of crispy beer-battered, bacon-wrapped onion rings, plus a fully loaded Italian sub and other crimes against frugal eating. Go investigate them all with your mouth.
Hixter
4. Ronnie's Bramley Apple Pie
Hixter Bankside (address and info)
London, England
Approximate calorie count: 815
How do you make something as American as apple pie even better? How about covering it with more cream than the combined discographies of Prince and Eric Clapton. Trust us when we tell you that this sweet, perfectly spiced pastry is well worth a trip across the pond. Also, didn't apple pie come from the Dutch? Did we steal it? USA! USA!
London's got a whole bunch of other decadent desserts for you to try, too...
Sebastian Davis/Thrillist
3. Italian Sub
Timone's (address and info)
Atlanta, GA
Approximate calorie count: 1,100
Capicola. Salami. Mortadella. Provolone. House-cured giardiniera. These are seven of our favorite words ("floccinaucinihilipilification" is eight). And they all also happen to be stacked high on this new ATL deli's Italian sammie. A coincidence? Who knows. Either way, you've gotta get this serious sub in your facehole stat. Or else [insert generic mafia threat here].
Atlanta's pork preparation game is so, so strong...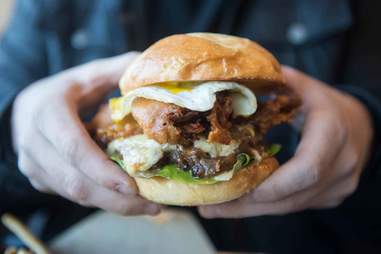 Chona Kasinger/Thrillist
2. The Rockstar Burger
Tipsy Cow Burger Bar (address and info)
Redmond, WA
Approximate calorie count: 1,217
Why yes, that's a house-ground beef patty with beer-battered fried bacon, maple syrup, white cheddar, a fried egg, caramelized onions, dumb veggies, and Tipsy sauce on top. This thing is more of a star than you could ever hope to be, but don't worry, it's not your fault you're not made of fried bacon. But you could at least try.
There are a helluva lot of unbelievable burgers in Washington...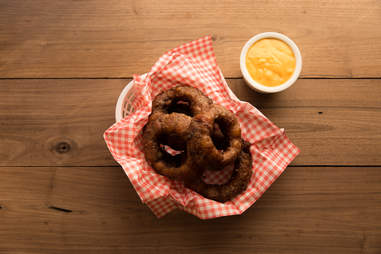 Drew Swantak/Thrillist
1. Beer-Battered Bacon Onion Rings
Thrillist
Approximate calorie count: 6,155
Beer, bacon, and onion rings are all on par when it comes to deliciousness. But what happens when you combine all three? We were a little scared to find out, but we did, because beer, bacon, and onion rings. These things are dipped in a rich stout batter, wrapped up all nice in bacon, battered again, and fried until golden. We suggest dipping them in warm queso, but really, queso is never just a suggestion. So yeah, we apologize in advance for ruining all other onion rings for you.
Better get cookin', these rings aren't gonna bacon-wrap themselves...
Rachel Freeman is a Food/Drink editorial assistant at Thrillist, and has had torrid love affairs with many an onion ring. Follow her to true love: @rachelifreeman.