The week's most ridiculous eats, from a burger tower to beer cheese soup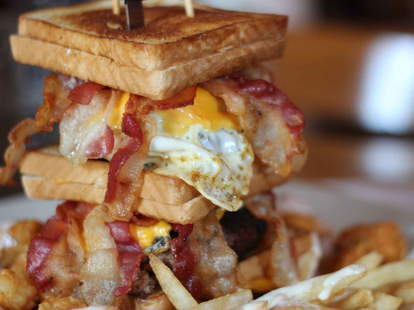 Your Thanksgiving leftovers are long gone, as are memories of drinking with your fave washed-up high school jock at the bar. But it's just not the holidays without "holiday weight", and we're only at the halfway mark. May we recommend this enormous platter of chicken, or perhaps this Lebowski burger? The Italian beef and bacon on top really tie the whole thing together and will get you well on your way to breaking some poor mall Santa's lap when you sit down.
4. Buttermilk Fried Chicken Plate
Estelle's (address and info)
Boston, MA
Approximate calorie count: 1,124
What's better than fried chicken? Did you just say "fried chicken with mac & cheese and garlicky greens"? Correct! That's exactly what they're serving up at Estelle's, so you get crispy bird, cheesy mac, and a vegetable you actually want to eat, all on one hefty-ass plate. You can't go wrong when fried chicken is always right.
This isn't the only Southern spot Boston's got to offer though... 
 
3. The Big Lebowski Burger
Bulldogs Grill (address and info)
Grayslake, IL
Approximate calorie count: 1,265
While The Dude's typically more of an In-N-Out kinda man, we're guessing he'd certainly abide this monster, which starts out mellow enough with a 9oz patty, then is loaded with Italian beef, bacon, and a blanket of horseradish cheddar. As for what condition your condition will be in afterward, we're guessing the answer is "sleepy".
There are so many crazy-delicious burgers all over Illinois...
Perry Santanachote
2. Pumpkin Beer Cheese Soup
Thrillist
Approximate calorie count: 3,717 (for six servings)
When you think "fat", you tend to go straight for the bacon and burgers. But that's just because you haven't met this soup yet, which happens to be loaded with two bottles of beer, tons of roasted pumpkin, and an unholy amount of cheddar cheese. Yeah, it pretty much makes us the happiest sinners ever. Wisconsin... your move.
You need this to warm your heart/stomach, so here's the recipe...
Sebastian Davis
1. The Triple Coronary Bypass
Vortex Bar & Grill (address and info)
Atlanta, GA
Approximate calorie count: 4,172
The most ridiculous beefy, cheesy, greasy thing to emerge from Georgia since Hulk Hogan, this is less a burger than a work of modern art. It's made up of three burger patties, three fried eggs, 14 slices of American cheese, and 10 pieces of bacon, all stuffed between two grilled cheeses, then served atop a warm bed of fries & tater tots blanketed in gooey cheese sauce. Eating one's harder than re-watching Suburban Commando... and way more fun.
Atlanta's got a bunch of burgers worth eating, and we even ranked them for you...
Rachel Freeman is a Food/Drink editorial assistant at Thrillist, and is about to start planning a trip to Atlanta solely to visit The Vortex. Follow her to fat-food goals: @rachelifreeman.