The week's most ridiculous eats, from a pulled pork burger to queso fries
It's officially winter in nine days, which means if you still haven't gained enough extra weight to keep you warm once the cold comes, you're running out of time. But definitely not actually running, because that would be counterproductive. Instead, pad up with a big-ass burger topped with a pile of pulled pork, meat & queso covered fries, and other winter wonders.
The Porkster Burger
Rehab Burger Therapy
(
address and info
)
Scottsdale, AZ
Approximate calorie count:
1,285
Never again will you have to choose between a beastly burger and a smoky pulled pork sandwich, thanks to Arizona's Rehab restaurant, which thoughtfully puts the two together on their Porkster:
a burger topped with BBQ swine and melted cheddar.
What you DO have to choose, though, is whether you want the requisite
5oz "relapse" patty or the 10oz "rehab"
. Ignore Amy Winehouse. Go to rehab.
Phoenix is brimming with other crazy-good burger joints too...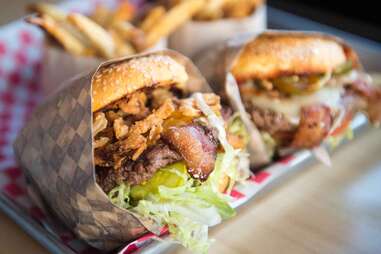 Chona Kasinger
3. Kit N Caboodle
Giddy Up Burgers
(
address and info
)
Seattle, WA
Approximate calorie count:
1,381
A
1/3lb patty. Haystack onions. Bacon. Ranch. BBQ. Cheddar.
Veget... never mind. Yeah, this burger ain't
kit'n
around. (Whoops?) It pretty much has everything you love all between one house-made bun, and if we need to further convince you to get this in your stomach, well, you're kind of dead to us.
We assure you Seattle's got no shortage of badass burgers...
2. Tex-Cajun Fries
BB's Cafe
(
address and info
)
Houston, TX
Approximate calorie count:
1,625
If Canada, Louisiana, and Texas all hung out for one day and were like "Yo, let's do a thing," this would be the thing:
shoestring fries completely
covered in gooey queso, roast beef, and gravy.
Oh, and you can snag these bad boys at 2am, when calories suddenly cease to exist. That's how food works, right?
There are so many other late-night eats up for grabs in Houston...
Drew Swantak
1. Buffalo Chicken Meatballs
Thrillist
Approximate calorie count:
2,686
(for 35)
Bones in hot wings are a nuisance that really just get in the way and take up valuable chicken space. Plus, you look like you just got done finger-painting when you're done eating. So we got rid of them by making buffalo chicken meatballs. These
slow-cooked suckers are loaded with Frank's
and are just as spicy as your average wing, but way more (way too?) poppable. Note: you may think these are for game-day sharing, because the recipe makes 35, but don't be fooled. These babies are ALL for you... but maybe save us a few? Please?
We've got the step-by-step right here, so you can cook these up right away...
Rachel Freeman is a Food/Drink editorial assistant at Thrillist, and feels very overwhelmed right now. Follow her to all the fat feels: @rachelifreeman.