Fat Kid Fridays, September 19th Edition: The week's most ridiculous eats, ranked by calorie count
As the air starts to grow crisp -- just like we like our bacon, which there's a surprising lack of this week (but don't worry!) -- we could all do well with a little extra poundage. Or a lot. Whatever. Ever the hero, Fat Kid Fridays has just the stuff you need to make it happen. We're talking an entire fried chicken with multiple sides and a miracle milkshake in an edible homemade Snickers glass, so you really have no excuse not to finish the whole damn thing. For the environment!
4. Breakfast Burrito with French Fries
Taqueria La Mexicana (address and info)
Los Angeles, CA
Approximate calorie count: 1,606
Straight outta the breakfast burrito capital of LA, this beautiful bundle will ruin your future breakfast burrito experiences in the best way possible, namely because most of your future burritosdon't have fries inside, and French fries are the cornerstones of any good breakfast. Stuffed with loads of carne asada, sour cream, and cheese, this spot'll happily sub out boring hash browns for crispy fries, and you will happily eat them all. 
There are tons of other breathtaking breakfast burritos all around LA...
Slater's 50/50
3. Cococarma
Slater's 50/50 (address and info)
San Diego, CA
Approximate calorie count: 2,022
We could simply tell you that this is a giant Girl Scout Cookie in a skillet. But it's so much more. This alt-Samoa (Caramel deLite, if you're a poseur) is a steaming skillet full of shortbread cookie, coconut, and caramel, topped off with vanilla ice cream, and then lovingly drizzled with chocolate. The Girl Scout Promise says the Scouts will do their best to "make the world a better place". Mission accomplished.
But save room for San Diego's other artery-clogging, seriously indulgent desserts...
2. Winner Winner Chicken Dinner
Birds & Bubbles (address and info)
New York, NY
Approximate calorie count: 3,777
A winner is exactly what you'll be after you down this entire dinner by yourself (your doctor might disagree). And winners take long, long naps, especially after they eat a WHOLE crispy fried chicken accompanied by three sides (like cheesy, biscuit remoulade-topped mac, summer slaw with peanuts & cilantro, and crispy potato salad), plus a bread basket housing jalapeño cornbread, buttery biscuits, and benne seed challah rolls. The bird really is the word.
This new NYC joint also seriously specializes in Champagne & you love Champagne, so...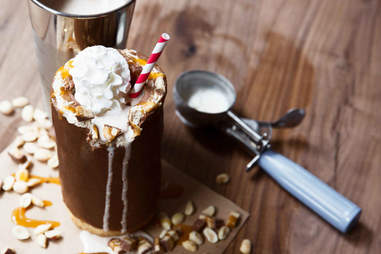 Drew Swantak
1. Snickers Milkshake in Edible Snickers Cup
Thrillist
Approximate calorie count: 4,705
Until now, you've been forced to drink your milkshakes out of things that really hurt when you try to bite them (we've tried, we know). You deserve better. You deserve this thick, creamy Snickers milkshake served up in an edible glass crafted from homemade nougat, caramel, and chocolate with a shortbread cookie bottom for a little extra Twix. And obviously, it's topped with whipped cream. Who do you think we are?
Oh, you want the whole recipe? Well, isn't that convenient... 

Rachel Freeman is a food/drink editorial assistant at Thrillist and will never look at non-edible glasses the same way again. Follow her to all the milkshakes at @rachelifreeman.