Fat Kid Fridays, September 26th Edition: The week's most ridiculous eats, ranked by calorie count
The first day of fall was Tuesday, which gave way to a season full of pumpkin-spice everything. But more important than that spice, it's now actual pumpkin season. And to honor Charlie Brown's chosen gourd of worship, it's time you started to look like one. We're here to help. Behold, lobster in a creamy pot pie and nachos made with fried-up mini chimichangas. Those'll get you into proper pumpkin shape. Investing in orange sweaters is up to you.
Krystle Klein
4. American Chicken & Waffle Cone
Tested.LA (address and info)
Los Angeles, CA
Approximate calorie count: 1,065
What came first: the chicken or the waffle cone? Do we care? Nope. Because they're both ending up in our stomachs anyway. What we DO care about, though, are all the delicious fixin's piled into this beast, like roasted sweet potatoes, apple coleslaw, fig syrup, and goat-cheese fondue. Yes, we just said goat-cheese fondue. Don't make this weird.
There's an equally as indulgent Indonesian version right this way...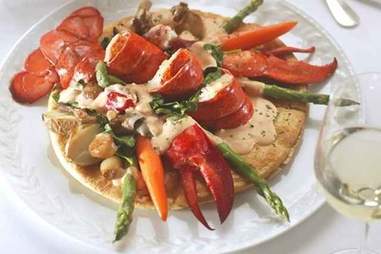 Michael Mina
3. Lobster Pot Pie
Michael Mina (address and info)
Las Vegas, NV
Approximate calorie count: 1,450
Sorry, all the Grandmas in the world, but your chicken pot pie just isn't gonna cut it after finding out that this is a thing that exists. Baby vegetables, truffle-lobster cream, flaky pastry, and loads of fresh lobster meat make up this take on the classic comfort food. Seriously, take a few solitary moments to process the fact that there is essentially a whole freaking lobster in this pot pie. And then go eat it all. Forgive us, Grandma, for we are fat.
But don't forget the tasty dishes at Vegas' other hotel restaurants...
 
2. Detention Burger
Bernie's Burger Bus (address and info)
Houston, TX
Approximate calorie count: 2,255
Bernie's shuttles monster burgers out of the most badass school bus since Miss Frizzle's (it houses the kitchen of their new brick-and-mortar spot). If two handcrafted beef patties smothered in cheddar and "tipsy" caramelized onions -- all sandwiched between two applewood-smoked bacon-loaded grilled cheeses -- is going to put you in detention, well, time to start shooting spitballs at Mrs. Armstrong.
There were tons of other killer restaurant openings in Houston this summer too...
 
Drew Swantak
1. Chimichachos
Thrillist
Approximate calorie count: 14,368
The nacho game is now forever changed, thanks to the culinary genius that is our Recipes editor. We've shunned the usual tortilla chips in favor of these stronger, more deep-fried mini chimichangas stuffed with cheesy beef and covered in guac, salsa, beans, jalapeños, olives, and, of course, more cheese. That "not 'cho cheese" joke has never been so real, because, despite the fact that this recipe will make 72 'changas, you know you're not sharing. And that's something to be proud of.
We can tell you're anxious to make these, so we'll be nice and give you the full recipe...
Rachel Freeman is a Food/Drink editorial assistant at Thrillist, and thinks lobster is the new chicken. Follow her into the abyss at @rachelifreeman.