The week's most ridiculous eats, from a cinnamon roll Sloppy Joe to a bacon sundae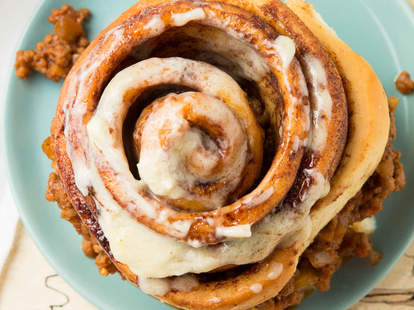 Yesterday marked the 221st anniversary of Marie Antoinette's execution. Maybe that happened because she limited her kingdom to boring-ass cake. Well, we deserve better. And sometimes, better means Sloppy Joes made using Cinnabons and a sundae topped with more than one form of bacon. Vive la fatness! God bless America.
4. Back-to-School Burger
BLT Burger (address and info)
Las Vegas
Approximate calorie count: 1,228
If going back to school means getting this burger in my stomach, then by God, I've suddenly realized I actually LOVE math and need a degree in it. Okay, fine, not even a burger this fat could make me study math, but it certainly does make me hungry, since this 7oz beef patty is loaded up with chili, American cheese, nacho cheese sauce, and Frito-Lay chips. That life-or-death choice between a burger and some 'chos is no more, though we hope you've never made that choice to begin with, and just opted for both.
There are waaaaay too many delicious new burgers in Vegas...
Drew Swantak
3. Cinnabon Sloppy Joe
Thrillist
Approximate calorie count: 1,259
Despite the multitude of amazing technological advancements America has achieved, it's been long-thought that there was absolutely nothing that could improve a Cinnabon. Not to brag, but we totally did. And we have Joe to thank, that sloppy bastard. Using that classic ketchup and Worcestershire-infused ground beef, we stuffed these suckers for the greatest sweet-savory combo since... that other time when there was a sweet-savory combo.
It's pretty important that you make these as soon as possible... 
Scott Gold
2. The Notorious Bacon Sundae
Green Goddess (address and info)
New Orleans
Approximate calorie count: 1,509
There's a reason this beast is notorious: it stole our ability to enjoy sundaes that aren't topped with multiple incarnations of bacon. And it will steal yours too, seeing as it's made of coffee pecan brittle ice cream topped with salted bacon caramel sauce, more bacon, a heap of whipped cream, and a Luxardo cherry. 
New Orleans really loves bacon, and we can't really complain...
Sam Davenport
1. Grandma Pat's Crispy Buttermilk Fried Chicken
Punk's Simple Southern Food (address and info)
Houston
Approximate calorie count: 2,284
Grandma Pat knew what was up when she created her recipe for this crazy-crispy buttermilk fried chicken. And she also somehow knew the kind of gluttony we're truly capable of. There are 10 pieces of beautifully battered and fried chicken in this meal, plus horseradish mashers with red-eye gravy and buttermilk biscuits. If we're getting technical, that whole-bird meal is technically meant for two to three people to share. But, you know what? Shut up. We're trying to make Grandma Pat proud here.
Oh, but there are so many other fantastic fried chicken spots in Houston too...
Rachel Freeman is a Food/Drink editorial assistant at Thrillist, and is contemplating a trip to the mall just to get Cinnabon. Follow her dreams of dessert at @rachelifreeman.