Fat Kid Fridays, May 23rd edition: The week's most ridiculous eats, ranked by calorie count
This weekend, as you celebrate three days of not working by eating as much grilled food as possible, remember to take a moment to wish a very happy first birthday to Fat Kid Fridays. We're celebrating this milestone with a roster of heart-stoppers like deep-fried mac & cheese, pulled pork waffle sandwiches, and an entire freakin' cake (or cake-like thingie) made of bacon-wrapped pork. Fat Kid Fridays' birthday might be the death of you, but at least it'll happen on Memorial Day, so people will have a hard time forgetting you went out in a blaze of glory.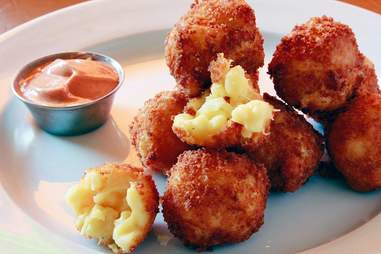 Jeff Miller
4. Chef Jerome's Truck Mac & Cheese Balls
Fred 62 (Los Angeles, CA) 
Approximate calorie count: 960
The trifecta of late-night food qualifications is simple: greasy, carby, cheesy. These mac & cheese balls are like a combination of mozzarella sticks and the best bowl of mac you've ever had, and their crisp, golden, greasy outer layer and creamy insides put a typical 3am slice of pizza to shame. 
The rest of the new 4am options will also fight the drunchies...
3. Burrito Mojado
Los Agaves (Santa Barbara, CA)
Approximate calorie count: 1,030
Whether it's letting its salsa roja drip through a neon plastic basket or, like at Los Agaves, it's cozied up next to a fancy tomato rose, a wet burrito is a thing of beauty. This gigantic, cheese-topped, grilled steak-filled beauty is a bundle of Southern California perfection.
SoCal has some other killer restos that aren't in LA or OC...
2. Applewood/Whiskey Pulled Pork Waffle Sandwich
Hyde Away Blues BBQ (San Francisco, CA)
Approximate calorie count: 1,230
Until this family run SF 'cue shack upped the ante, we thought there was nothing better than chicken and waffles paired with a shot of whiskey. But now... now we know that there is this sandwich made of two crispy waffles hugging an overflowing helping of Applewood/whiskey pulled pork and jalapeño slaw and topped with Jack Daniel's BBQ sauce. We will never look at waffles the same way again.
Wanna see more of SF's best 'cue? We've got it...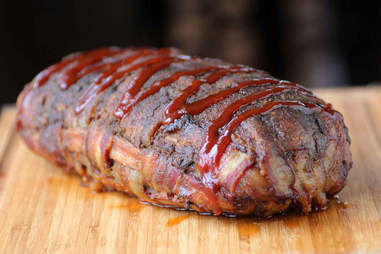 Sean Cooley
1. Bacon Bomb
Kaiser Tiger (Chicago, IL)
Approximate calorie count: 5,140.6
The gut-busting Bacon Bomb is essentially your mom's meatloaf... if your mom were a carnivorous lumberjack sent from a porcine future. While the 5lb log of meat is meant to serve six, we can't help but imagine inhaling the deliciously seasoned 4lbs of pork and beef held together by 16 bacon slices alone, in one sitting. Then crying extremely salty shame tears. Luckily, if you want to be healthy -- and aren't aware of what "healthy" means -- you can get it as a sandwich with pepperjack cheese and BBQ sauce. 
This beer hall has 24 drafts and flights of sausage...  
Liz Childers is a food/drink editorial assistant at Thrillist, and is looking to sublet her NYC apartment so she can move closer to the Pulled Pork Waffle Sandwich. Find her Craigslist ads at @lizchilders1.