Fat Kid Fridays, February 28th edition: the week's most ridiculous eats, ranked by calorie count
Mardi Gras is next week, that annual celebration of overindulgence and debauchery. But why even get excited about one stupid Fat Tuesday a year when you've got 52 Fat Kid Fridays comin' atcha? This week, the highest-calorie foods include a Mardi Gras mutant, plus more Kit Kats and M&M's than the Halloween sack you stole from your neighbor's kid last year. Fat Tuesday, you've been bested.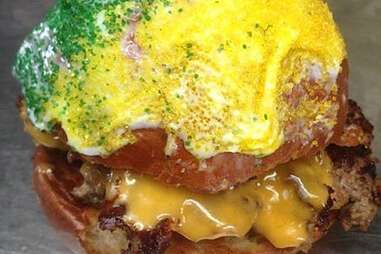 4. King Cake Burger
Food Drunk, New Orleans
Approximate calorie count: 910
For a city that has so perfectly mastered a celebration called Fat Tuesday, we're a little disappointed that New Orleans took so long to create this beaut. Ignore the parades and run to find this food truck, because a brisket patty wedged between an icing and sprinkle-covered bun is so much more exciting than catching beads.
Or find them on the parade route for the best of both worlds...
3. Smothered Tater Tots
The Original Chubby's, Denver
Approximate calorie count: 1,075
Typically, we think you should let your inner-fat kid out to party, but, if you're feeling like a diet a bit more reserved today, just indulge the Chubby kid. He'll be satisfied with a heaping plate of crispy tater tots smothered in secret green chili sauce. But don't blame us if you're still hungry after. It's only about 1,000 calories, after all.
Blame the place next door that gave you the munchies...

2. The All-American Burger
Henry's Tavern, Seattle
Approximate calorie count: 1,366
Occasionally, we think about how we're getting really tired of burgers and mac 'n cheese. But then we remember how our moms always said to be true to ourselves, so we take the mac, mash it onto a burger, and call Mom so she knows just how bastardized her advice has become. This mash-up has two patties housing beer-cheese mac. Thanks again, Mom!
If this is underrated, Seattle must be winning the burger lottery...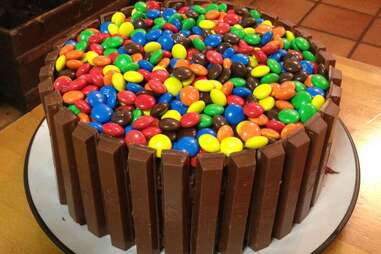 1. Kit Kat and M&M's Chocolate Cake
Reddit, MiniF
Approximate calorie count: 1,368 (...for one slice)
Like having your birthday party on Halloween, this monster brings a year's worth of overindulgence in one glorious dessert. Somewhere underneath that sea of M&M's and Kit Kats is a full-on chocolate cake, with the candies held in place by buttercream. If that was the glue you used as a kid, your paste-eating habits might be a little more understandable.
We've got the deets on how you can make your own...
Liz Childers a food/drink editorial assistant at Thrillist and prefers to celebrate Fat Kid Week, but when Seamless won't bring her enough mac 'n cheese, she'll settle for Fat Kid Friday. Follow her @lizchilders1.