Last weekend, we slopped up cheese-soaked, bacon-loaded, carb-heavy perfection throughout the most boring Super Bowl imaginable (Sorry, Denver!), and this weekend, we'll probably do the same thing during the Olympics -- only this time with Russian food.
But before we dive into the pelmeni and brick chicken, Fat Kid Friday is here with a medal ceremony for this week's most decadent foods.
4. Tiramisu French Toast
Green Eggs Cafe, Philadelphia
Approximate calorie count: 1,003
This brunch item takes the fried bread and syrup from French toast and surrounds it with all the items you expect from tiramisu: espresso-soaked lady fingers, mascarpone, and cream. So it's perfect for your morning meal, post-dinner snacking, or, you know, when you want those experiences combined into perfection.
We love deliciously mutant foods...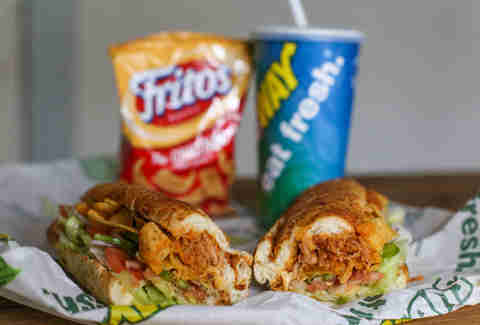 3. Fritos Chicken Enchilada Melt
Subway, various locations
Approximate calorie count: 1,160
Michael Phelps might approve, but Jared might faint at the sight of this enchilada sauce-smothered, Fritos-covered, pulled-chicken monster sandwich that comes above 1,100 calories. But while unconscious, he might dream of this thing.
But we did taste-test this guy for you...
2. The Voltaggio Monte Cristo
Umami Burger, various locations
Approximate calorie count: 1,185
Top Chef winner Michael Voltaggio joins forces with the fifth-flavor chain for a burger that reaches new heights of gluttonous glory. The patty -- typically the star of Umami's burgers -- becomes an afterthought when sandwiched between a custard-soaked, deep-fried bun and covered in gruyere fondue. There's also maple syrup and powdered sugar. Just because the rest sounded so tame. 
This was just one of the best burger debuts in NYC last month...
1. Double Bacon-Wrapped Burger
PYT, Philadelphia
Approximate calorie count: 1,617
If you've ever thought, "Oh, this burger would be better with a larger patty", tell your past-self that it should be ashamed for dreaming so small. Because the real question is, "Why not make a large patty into two small ones and wrap each of them in a nice, warm bacon Snuggie?"
You know you want to see this made step-by-step...
Liz Childers is a food/drink editorial assistant at Thrillist. She prefers her vegetables with bacon fat, her chicken fried, and her ramen with a bowl of extra chili paste. Follow her @lizchilders1.