February is almost a distant memory, and everything that happened is a blur (we think we remember something about net neutrality and Brian Williams... or was it Brian Wilson?). We blame that on our diet consisting of things like mammoth grilled cheeses stuffed with ham (actual mammoths are hard to find) and 1/2lb burgers with some deliciously unusual toppings. You tend to forget things when you nap this much.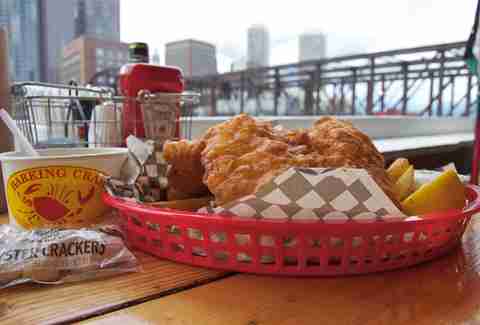 4. Fish & chips
The Barking Crab (address and info)
Boston, MA
Approximate calorie count: 822
The folks across the pond may not know much about food besides "mushy peas," but they sure as hell know how to fry stuff. And for that, we are eternally grateful. This Beantown iteration of fish & chips features a generous portion of battered and golden-fried haddock accompanied by crispy fries and house tartar sauce. Sorry, Brits, if we knew you were going to create something so delicious, we would have saved you some of that tea.
Boston's got quite a selection of fine-ass fish & chip spots for you to try...
3. Grilled Cheese
Fritzl's Lunch Box (address and info)
Brooklyn, NY
Approximate calorie count: 1,137
If we had gone to elementary school with Fritzl, and this was what he had in his lunch box (and that lunch box was hot), we would have traded him our Lunchables, Dunkaroos, AND Gushers just for a mere bite of this glorious grilled cheese. Loaded up with Swiss, cheddar, pickled peppers, tomato jam, and optional roasted ham (read: not optional AT ALL), you'll be left wondering how you were ever eating grilled cheese before this. Compliments to Fritzl's Mom!
There are quite a few gooey grilled cheeses in NYC that you've gotta get your hands on...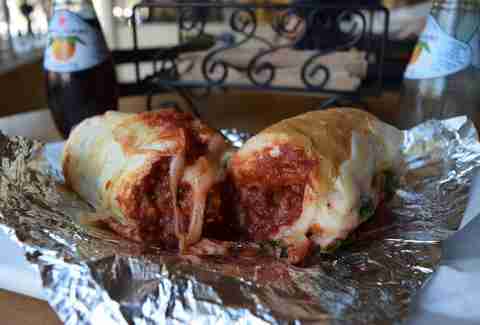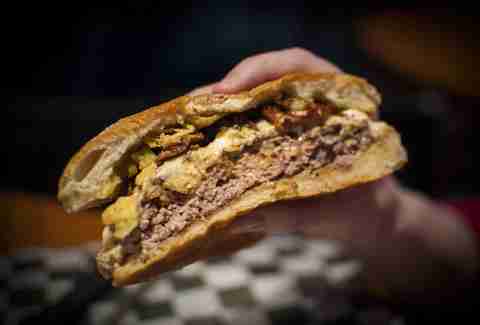 1. LBOE Burger
LBOE (address and info)
Memphis, TN
Approximate calorie count: 1,322
Anyone looking for a classic burger, avert your eyes, because this baby's packin' meat. More specifically, it's packing an 8oz patty complemented by Havarti, garlic cream cheese, bacon, green chiles, and corn chips, all between a ciabatta bun. Hell, if this is what the "Last Burger on Earth" looks like, sign us up for the mass extinction of all others immediately. Survival of the fattest, amirite?
If you're in Mempis, you best check out the lineup of beastly burgers they've got...
Rachel Freeman is a Food/Drink editorial assistant at Thrillist, and thinks there are certain people who should probably go extinct before burgers do. Follow her to misanthropic fun: @rachelifreeman.