Fat Kid Fridays, July 12th Edition: This week's most ridiculous eats, ranked by calorie content
Right now, eating season is at its peak. Summer is still raging on, but everyone knows the fasting that comes right before bikini season can end as people -- emboldened and falsely confident thanks to much Summer drinking -- care less and less about what goes straight to their thighs. And that's where we come in, hooking you up with the craziest foods from all across the Thrillist universe, and ranking them by calorie content for health reasons. This week, things got pretty intense. To wit:
Brisket-Flavored Bourbon
CU29 Cocktail Bar, Austin
Approximate Calorie Count: 266. That's, like, only a few more calories than water!
Okay, so this is a drink, so it might not have ALL of the calories from the brisket, but the mad scientists at CU29 are soaking 2lbs of moist brisket from Franklin BBQ, which makes some of the best in the country, in six liters of bourbon for over a month. Drinking the end product has been known to induce instant hair-sprouting on the chest of even the girliest girly-man.
They've got ghost pepper vodka, too??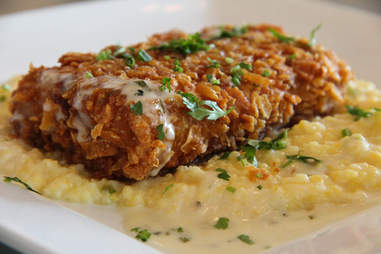 Potato Chip-Crusted Mahi-Mahi
Three Squares, Frisco (TX)
Approximate Calorie Count: 608. Because fish is "healthy", no matter what, right?!
Served over a bed of sweet corn orzo (for the fancy) or cheddar-jalapeno grits (for the feisty) OR both (for the fatsy), this baby is just what it sounds like: a monstrous mahi-mahi filet, covered in crushed tater chips, and fried to a gorgeous golden brown.
We've got detailed instructions on how to crush the rest of their menu, right through here
Donut Milkshake
Beavers Coffee and Donuts, Chicago
Approximate Calorie Count: 870. Sugarrrrrrrrrrrrrrrr.
Start with four scoops of Bobtail ice cream (vanilla, chocolate, or strawb), add in crumbled mini donuts made from buttermilk batter, blend it all up, then top generously with whipped cream, chocolate, caramel sauce, and chopped pecans. Throw a still-intact donut through the straw and you have a masterpiece of sugary goodness.
You're gonna wanna see how they crumble the freshly fried donuts...
The Jersey Burger
Sto's Bar, Philadelphia
Approximate Calorie Count: 1,252 (or 1,652 with fries). We can't promise that it'll make you look like those guys on Jersey Shore, but we can promise that it'll make you look like a pregnant Snooki.
A veritable Great Pyramid of meat, this guy's got Taylor ham, a fried egg, and a rolled beef patty all dripping with melted cheddar. Throw in the lettuce, tomato, onions, mayo, bun, and fries, and you will be full to the point of immediate death overwhelming happiness.
Sexy wings through here, plus a "Paralyzer" cocktail (???)...
Bacon-Wrapped Footlong Arizona Dog
Serrano, Philadelphia
Approximate Calorie Count: 1,713. They serve this to-go style, but you won't be going anywhere after this for a long time...
Just yer average bacon-wrapped hot dog. Oh, except that it's a footlong, and it's served up Arizona-style, aka loaded up heaps of guac, beans, pico de gallo, and chipotle aioli. Eat a few of these in a row and you might just resemble Arizona in land mass.
The fried, cheddar-stuffed jalapeno poppers will make your eyes burn and your mouth drool...

And the winner, narrowly edging out this monster dog, is...
100% Bacon Burger
Slater's 50/50, San Diego
Approximate Calorie Count: 1,810 for the full 1lb patty. Yeah. Clear your calendar.
If you're reading this list, you definitely don't have enough bacon in your diet, because no amount of bacon is enough for anybody ever. So: 100% ground bacon patty (you can choose the number of patties to make yours a 1/3, 2/3, or full 1lb burger, so... make the right choice...), topped with BACON cheddar cheese, topped with four pieces of extra-thick bacon, topped with a fried egg (the only ingredient that doesn't include bacon. But, ya know, bacon and eggs are boys), topped with Bacon Island dressing, gently laid down inside of a bacon pretzel bun (baked with bacon fat instead of butter, plus with actual bacon pieces inside), then impaled with a steak knife. Bacon. [Applause.]
Go on, watch it being made...