Fat Kid Fridays, July 18th Edition: The most ridiculous ice cream treats, ranked by calorie count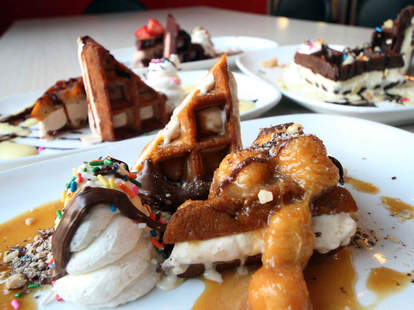 It's getting hot, and our instinct is to cool down. And yet our drive to shovel cool, refreshing ice cream into our mouths also adds padding that makes us even hotter. It's worth it. In honor of the cool-down food that makes us sweat, we've assembled some of the greatest ice cream concoctions of the year, including a 12-scoop ice cream beer float and the waffle ice cream sandwich. Fat Kid Fridays just got fatter. But at least we cooled down.
Sean Cooley
4. Red Velvet Waffle and Chocolate Ice Cream Sandwich
Waffles (address and info)
Chicago, IL
Approximate calorie count: 729
We wanted to throw a donut ice cream sandwich on here, because it's hard to top donut anything, but, hey... important things have to be done by somebody. And that honor of ingenuity goes to a Chicago shop that uses these fluffy red velvet waffles to sandwich inch-thick slabs of creamy, chocolaty deliciousness. They make it a fork-and-knife game thanks to whipped cream, sprinkles, and strawberry slices... for your health.
Look at these other waffle ice cream sandwiches being made...
Aaron Miller
3. Dark Chocolate Cupcake Ice Cream Sandwich
Sprinkles Ice Cream (address and info)
Dallas, TX
Approximate calorie count: 746
As our taste-tester figured out, cupcakes do not hold up as well to ice cream sandwich status as a waffle, but that's fine. We're okay eating our sandwich with a spoon when it's a dark chocolate cupcake with a beautiful dollop of peanut butter cup ice cream sitting happily inside, essentially making this the best possible version of a frozen Reese's Cup. 
Our editor taste-tested this, to help you strategize how to tackle it...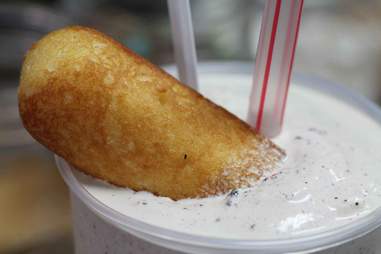 Jeff Miller
2. The Big One Milkshake
Twins Sliders (address and info)
Los Angeles, CA
Approximate calorie count: 2,241
We have to assume that The Big One got its name because anyone who finishes this eight-scoop concoction that has basically every Cold Stone mix-in -- from Butterfinger crumbs to Oreo bites to Cap'n Crunch -- will actually cause LA's next big one when they start walking. And, sure, it's billed as a meal for three, but why share when you can stick it back in the freezer until your next round of slurping? But we recommend eating that Twinkie-topper first. 
We photographed every single ingredient that goes into this, and it's beautiful...
Grant Marek
1. World's Biggest Ice Cream Beer Float
Suppenkuche (address and info)
San Francisco, CA
Approximate calorie count: 3,288
The Coke float your Grandpa used to whip up when you went to visit may win for nostalgia purposes, but it's time to put on your big-boy pants (but the ones with the elastic waist, of course) and graduate to this, which one-ups a boot of beer by dumping in 12 scoops of ice cream. Prost, doctor. You can now proceed with that bypass.
After seeing this, you'll never be able to eat a normal ice cream float again...