Fat Kid Fridays, June 20th edition: The week's most ridiculous eats, ranked by calorie count
After a week in which we hoisted our pint glasses high to our Dads with the best fatty bar foods we could find, we're back doing what we do best: rounding up the week's most ridiculous eats from around the country. Coincidentally, this week's dominated by our spirit animal, the pig, in the form of things like a fried trotters burger (yep, that's fried pigs' feet) and sweetbreads with waffles and bacon fondue. We really are what we eat. Oink.
Laura Hayes
4. Sweetbreads and waffles
Vidalia (address and info)
Washington, DC
Approximate calorie count: 830
So deep is our love for chicken and waffles that we'd be perfectly content to kick it with Aunt Jemima, some Eggos, and a box of nuggets. Vidalia, though, has stepped up the game with this pile of chicken-fried sweetbreads loaded on a waffle and drizzled with... bacon fondue. Yeah, that's bacon fondue. That'll teach us to settle.
Wanna see what's even better than bacon fondue? We've got it...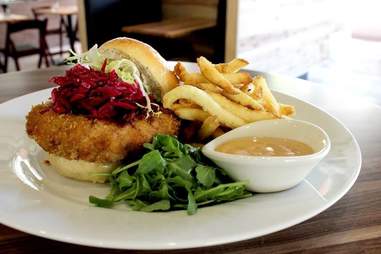 Red Dog Restaurant & Bar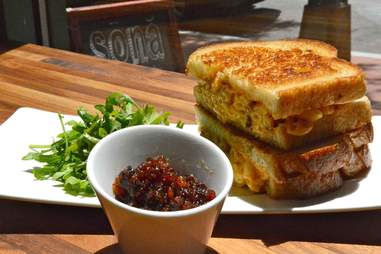 Laura Hayes
2. Bruno's Big Kid
Sona Creamery & Wine Bar (address and info)
Washington, DC
Approximate calorie count: 1,130
We'd normally recommend reserving the jam for the peanut butter sandwiches in your life, but when that marmalade is a bacon concoction, grab your knife and lather the bread up. Immediately. Oh, did we mention that's a solid inch of creamy mac & cheese oozing outta the sandwich? It's basically your favorite dinner of bacon mac slapped between buttered bread. 
Yep, there are still more bacon dishes in DC that're even more delicious...
1. Capocollo, salami & provolone sub
White House Sub Shop (address and info)
Atlantic City, NJ
Approximate calorie count: 1,817
For 60 years, White House has been ensuring no one gets to keep their Summer bod in Atlantic City, since their subs are massive enough to use as a baseball bat. This thing's layered with capocollo, salami, and provolone. It's so delicious, it's worth the layers it will add to your body. 
Atlantic City locals know how to eat right...
Liz Childers is an editorial assistant on Thrillist's national food/drink team and thinks the world is a brighter place with bacon fondue in it. Follow her to happiness at @lizchilders1.