Fat Kid Fridays, June 28th Edition: This week's most ridiculous eats, ranked by calorie content
You've eaten some crazy things in your day. And you've lived to tell about it (you legend, you!). But you've always yearned for a little more specificity in your tales of gluttonous greatness. So here's a list of the week's craziest foods, ranked by calorie content. Because we get that you're the kind of person who counts your calories, not because you're on some restrictive diet plan, but because you have pride.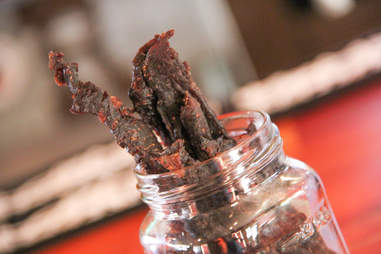 6. Buffalo Jerky
Waldron Lounge, Dallas
Approximate Calorie Count: 80 per piece. Mean lean snacking machine!
Yes sirree, that there's a Mason jar filled with buffalo jerky, which means that you'll be chowing down on a salty, tough version of Jim Kelly the great symbol of the American Wild West.
Taxidermied walls, taxidermied... stools?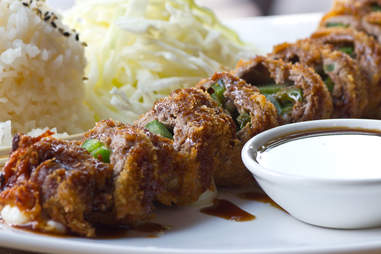 5. GenKatsu (Aka Deep-Fried Sushi)
Genki To-Go Food Truck, Atlanta
Approximate Calorie Count: 555. Come on. It's deep-fried.
Okay, so it's not technically sushi, but it sure looks like it. In reality, it's layers of thin-sliced ribeye stuffed with jalapeno filling and surrounded by a wheel of mozzarella, then fried up katsu-style. So yeah, if anyone asks, it's deep-fried sushi.
Check out their killer pork ribs and deep-fried NY-style cheesecake (!)
4. Spam/Turkey Monte Cristo
Wonderland Ocean Pub, San Diego
Approximate Calorie Count: 820. But add on a few if you dip your sammie in the extra powdered sugar on your plate...
A Monte Cristo is supposed to be a fancy French sandwich, right? Well, add some Spam, sliced turkey, Swiss and some good ole American cheese to egg bread that's dusted with a healthy serving of powdered sugar, and you've got yourself a truly Americanized Monte Cristo. Go us.
Yes, they have foosball. And an ENORMOUS burger.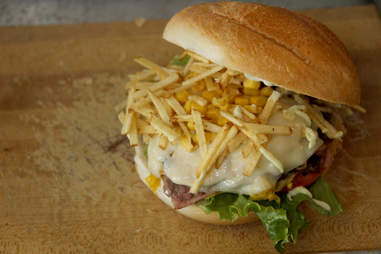 3. Bacon/Cheese/Egg Hamburgao
Braz BQ, Philadelphia
Approximate Calorie Count: 981. And that's just the burger...
This Brazilian joint did a quarter-pound garlic beef patty smothered in melted cheddar, smoked ham, sizzling bacon, a fried egg, fresh corn, green onion, lettuce, tomato, homemade mayo, and POTATO STICKS on top of a Kaiser roll. As the saying goes, "Come for the World Cup, stay for the hamburgaos."
They also slice up Brazilian steak right off of the skewer. Check it out, here.


2. Fajita Martini
El Corazon de Tejas, Dallas
Approximate Calorie Count:
1088
. Not unlike a good protein shake. Athletes
eat
drink fajitas at the gym, right??
If you're watching your figure and would rather have your fajita sans the carbs that come with tortillas, or you're the kind of guy who likes your martini with a little ground beef and guac, you're gonna wanna try this beautiful and perfect hybrid that could only come out of Texas.
You've gotta take a closer look at this thing...
1. Diner-Style Bacon Cheeseburger
Henry's, Atlanta
Approximate Calorie Count: 1417 Ooooh, Mama!
Two patties, cheddar, grilled onions, a slab cut of bacon (!), and Henry's signature Parm fries. To say that this is "good for you" would be to define "good for you" as "heart-stoppingly delicious".
Tuna/Sriracha/avo flatbread and Heath bar pie, right this way...