Fat Kid Fridays, May 2nd edition: The week's most ridiculous eats, ranked by calorie count
Chicago had its Baconfest this week, and there was over 7,800 pounds of bacon. Sadly, it was only enough to feed two hungry Chicagoans. There's slightly less bacon in this week's Fat Kid line-up, but there's plenty of mac & cheese pizza, and a whopping box of poutine.
Colin Joliat
4. Bacon Float
Lillie's Q (Chicago, IL)
Approximate calorie count: 840
Chicago's Baconfest brought out the porkiest of porcine perfection (bacon baklava! bacon cereal!), but the bacon float stood out from the herd, because we like the idea of drinking our bacon when given the chance. Bacon ice cream and bacon soda swirl together into Babe's worst nightmare, and candied-bacon peppers the glass rim, giving us inspiration for our next margarita. 
But really, you should check out the bacon cereal...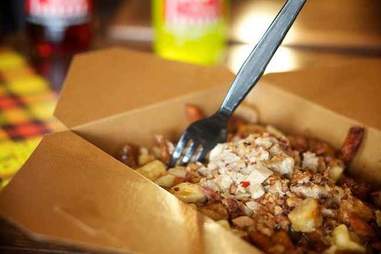 The Big Cheese Poutinerie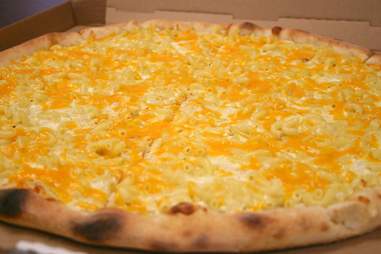 Mesa Pizza
1. Chorizo Nachos
El Vez (New York, NY)
Approximate calorie count: 1,278
Philly's El Vez rolled into New York this week -- and we actually mean rolled, because walking must be impossible after downing a pizza-pie dish full of chorizo-topped nachos. But these aren't just any nachos: these chips are specially made to hold the hefty weight of perfectly distributed melty cheese, sour cream, jalapeño, pickled red onion, and tongue-tingling chorizo without crumbling. 
The place also has a Martini de Mezcal, and you're gonna want to see it... 
Liz Childers is a food/drink editorial assistant at Thrillist, and she's pretty into the idea of special nacho chips that'll never break her heart by crumbling. Follow her to nacho perfection at @lizchilders1.