Like that delightful Katy Perry, Fat Kid Friday is a lion, and you're gonna hear us roar. Or burp. We eat ravenously, and no prey can stand in our path to mealtime domination. Our prey just happens to be Nutella-glazed, banana cream-filled donuts and mile-high cheese fries topped with chicken-fried bacon. Yes, we might eventually fall victim to our prey. But at least we didn't hook up with Russell Brand.
Recommended Video
Schmear No More With These Stuffed Bagel Balls
4. Royal Mounted Bacon Poutine
Burger Jones, Minneapolis
Approximate calorie count: 1,010
Most plates of poutine can win our hearts -- and stomachs -- just by doing their gravy-soaked, cheese curd-coated thing. But when you add chicken-fried bacon as a topping to pretty much anything, but especially to poutine, it's enough to stop our fry-loving hearts. Probably literally.
Minneapolis's got cheese curds every which way... 
3. Monkey Business
Bespoke Doughnuts, San Francisco
Approximate calorie count: 1,072
It turns out if you add fruit -- banana cream and crispy banana strips -- to a donut, it does not make it healthier. (See, Mom! I don't have to eat my fruits!) Or, it could just be the Nutella glaze and powder. We don't actually care, though, because Nutella glaze. 
This is one of the tamer donuts in this new joint's line-up...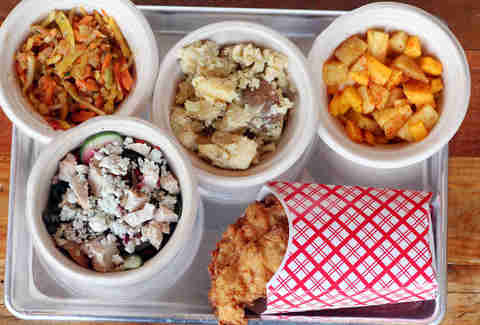 2. Fried chicken tenders and sides
Leghorn Chicken, Chicago
Approximate calorie count: 1,312
The reason all-you-can-eat buffets are amazing is that no one gets to judge you for getting six types of salad or soft-serve before your tray of Asian and Italian noodles. Side-happy restaurants are pretty much the exact same thing, so Leghorn's cafeteria-style tray loaded with less-than-half of their available sides is a sign of true love. It's not a buffet, but we'll still go back for a third form of chicken after these fresh-fried chicken tenders and this grilled chicken-kale-quinoa bowl. 
Check out these biscuits -- they're also a vessel for chicken...
1. Balls O Bacon
Whiz, Los Angeles
Approximate calorie count: 1,399
You may not be able to see it, but those meatballs are wrapped in bacon. That's right: slow-cooked, pork shoulder meatballs are wrapped in crispy, fatty bacon and then put on a sub because that's what you do when you're making meatballs like this. This place also serves up burgers like the one way up top. And cheesesteaks. And Sriracha fries. Yeah... we just booked a hotel nearby.
Since they make homemade cheese whiz, there's obviously a slew of cheesesteaks to ogle... 
Liz Childers is a food/drink editorial assistant at Thrillist and is now wondering whether fried chicken can be wrapped in bacon. Follow her gluttonous adventures at @lizchilders1.