With April rolling in, it is way past time to start prepping your nude beach body, unless your goal was to look like a fat dude wearing a Speedo. Since getting in shape is overrated, we've rounded up the most caloric foods to inspire your next eating binge.
Right this way to foie gras pop-tarts and burgers with slabs of fried cheese:
Recommended Video
This fried quesadilla is infused with Hot Cheetos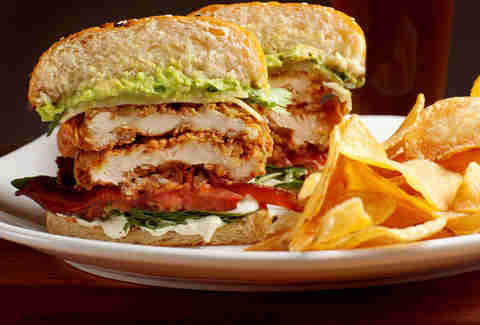 2. Fried chicken + jack sandwich
East Hampton Sandwich Co. (Dallas, TX)
Approximate calorie count: 1231
The classics, like your grandma's weird casserole and those Upper Deck cards you thought would be worth a lot of money one day, shouldn't be messed with. That's why this fried-chicken sandwich is so glorious. Fried white meat, ripe tomatoes, avocado, pepper jack, bacon, and a jalapeño cream sauce all nestled between two bread slices. Perfection. Just like that Ken Griffey, Jr. rookie card.
Peep 20 other sandwich shots of equal perfection...
1. Nica Burger
A&G Burger Joint (Miami, FL)
Approximate calorie count: 1269
See that fried block that's nearly the same size as the 1/2lb beast of a burger patty? That's queso frito, which is basically the Dominican-Nicaraguan version of a mozzarella stick. And because there's also fried plantains, chimichurri, and jalapeño cole slaw, this burger actually checks off every single box of the food pyramid, which is a great thing because it's also almost a day's worth of calories. Done and done, y'all. 
Looking for more Miami burgers? We've got 'em...
Liz Childers is a food/drink editorial assistant at Thrillist and thinks mozz sticks should be America's new condiment. Follow her to mozzarella stick-topped hotdogs at @lizchilders1.