Tomorrow is Valentine's Day. And while you can tell yourself it's about "love" and "romance," it's really just an excuse to go out for a big dinner. And what better way is there to say "I love you" than by stuffing your sweetheart with a burger stuffed between a Polish donut (oh, hey Fat Tuesday!) or with puff pastry-laden lasagna pot pie? Consider this a test: if this so-called love of yours sticks around after you go up two belt sizes in one day, you might have found the one.
Recommended Video
Ghost Kitchen: How This NYC Restaurant Is Responding to Coronavirus
4. Fried Wings & Grits
The Breakfast Klub (address and info)
Houston, TX
Approximate calorie count: 1,020
Shrimp and grits is a thing. Fried chicken and waffles is also a thing. And in honor of Valentine's Day -- or maybe because this place reminded the chef of the love between Judd Nelson and Molly Ringwald -- the two dishes hooked up and had a baby. It didn't inherit any shrimp, but it does have six crispy fried chicken wings served with creamy grits, potatoes, and toast. It's best enjoyed after a Bender (boom!).
Houston's chock-full of seriously solid wings you've gotta get your hands on...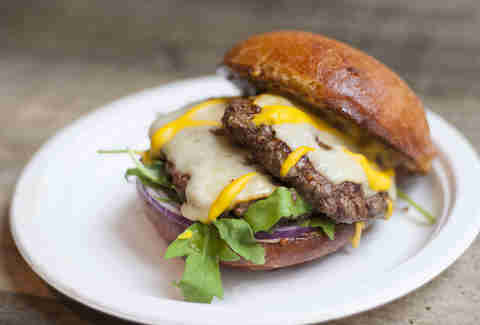 3. Mardi Gras Burger
DMK Burger Bar (address and info)
Chicago, IL
Approximate calorie count: 1,040
Mardi Gras is literally a holiday based around fatness, both in its actual name and the foods traditionally chowed down upon, so naturally it's one of our favorite days of the year. And of course, there's a burger made with paczki, a traditional Fat Tuesday treat that makes Dunkin' look like Jenny Craig. DMK loads up two Cajun-spiced 5oz patties, Swiss cheese, Creole ketchup, mustard, arugula, and red onion on a house-made paczki bun. It's the sexiest Polish-American combo since Harvey Keitel. Wait, what?!
There are plenty of other Chicago spots serving up perfect paczki too...
2. Lasagna Pot Pie
Thrillist
Approximate calorie count: 1,248
Everything is better when it's personal-sized, because when it comes to food, we're not tryna share. But also because there have been studies on it AND DATA DOESN'T LIE. That's why we stuffed layers of homemade meat sauce, ricotta, mozzarella, and Parmesan into individual dishes and topped 'em with golden, flaky puff pastry for a serious lasagna-pot pie combo. Yes, this is the greatest hybrid moment since that one Misfits song.
Our recipe will show you how to make a few of these suckers...
 
1. The Tucker Duke Burger
Tucker Duke's Lunchbox (address and info)
Various locations, FL
Approximate calorie count: 1,435
We don't know you, Tucker Duke, but God bless you for making a burger that's half-composed of golden-fried onion rings. Plus there's American cheese, lettuce (meh), tomato (fine), and Tucker sauce (um?) to round out both this thing and your profile. Even better, this sucker's $5 on Tuesdays, which makes a strong case for Tucker Duke as Humanitarian of the Year.
There are soooo many tasty burgers in Florida for you to try...
Rachel Freeman is a Food/Drink editorial assistant at Thrillist and thinks there should totally be a movie remake called Tucker & Duke vs. Evil, starring this burger. Follow her to really great ideas: @rachelifreeman.