The week's most ridiculous eats, from a mozz stick cheesesteak to a Turkey Day burger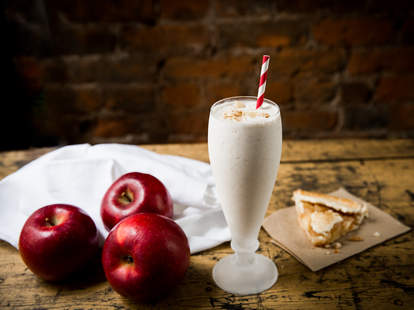 Thanksgiving is fast approaching, and, if you're going to come anywhere close to beating your mashed potato-eating record from last year, you're gonna need some practice. Thankfully, you have us, and we've put together a training course for your stomach. Yes, we're talkin' a cheesesteak stuffed to the brim with mozzarella sticks and a Turkey Day-themed burger with gravy & stuffing to really get you in the zone. Do it for the glory. Then take lots of naps.
Wilma Jean
4. Double Burger
Wilma Jean (address and info)
New York, NY
Approximate calorie count: 1,121
The burger may look a bit basic for FKF's hyper-caloric list, but believe us: your eyes are deceiving you. Not only are there two patties nestled between those sesame seed buns, those are two 1/3lb patties. That's a helluva lot of meat for one burger, not to mention you canget it covered in melty pimento cheese (on both layers!) and bacon... and by "can", we mean "will". And just like the burger, if you eat enough of 'em, you'll probably double in size.
This is one of NYC's best restaurants of 2014, but there are lots of other ones too...
3. Thanksgiving Burger
Lucky's Last Chance (address and info)
Philadelphia, PA
Approximate calorie count: 1,342
I dare you to find a better way to make the most of your piles of Thanksgiving leftovers. This seasonal sandwich loads a 4oz patty with American cheese, sliced turkey, stuffing, cranberry sauce, and gravy to create something way better than your usual microwave re-heated plate. And once you try it, you will definitely be giving every ounce of your thanks to Lucky's. 
Philly's got so many other Thanksgiving-focused dishes to try too, though...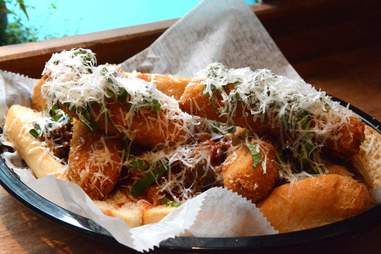 Laura Hayes
2. The Robert Lynch Sandwich
Bub & Pop's (address and info)
Washington, DC
Approximate calorie count: 1,454
I have no idea who Robert Lynch is, but, dammit, someone buy that guy a beer. His namesake sandwich is basically my spirit animal just because of the sheer number o' fresh-made mozz sticks it's loadedwith. Oh, and they're on top of a Philly cheesesteak swimming in marinara, which is, in turn, on top of a Bolognese sauce made with meatballs, sausage, AND pork belly. Then it's all sprinkled with Pecorino. Bless you, Bob, you magnificent bastard.
But this isn't the only crazy new DC sandwich you can get your hands on...
 
Drew Swantak
1. Hard Apple Cider Milkshake
Thrillist
Approximate calorie count: 1,579 (for two)
We're no strangers to boozy milkshakes, but you typically find 'em made with the requisite Baileys and Kahlua. While we don't discriminate against milkshakes or liqueur, it's time for something different. For this beast, we went for a hard cider, vanilla ice cream, and apple pie concoction that'd make George Washington proud. The recipe says it makes two. We say get a bigger mug.
Better grab your blender, 'cause you know you want to make this RIGHT NOW...
Rachel Freeman is a Food/Drink editorial assistant at Thrillist, and has never been much of an apple pie person, but this shake has changed her. Follow her to self-revelations at @rachelifreeman.