The week's most ridiculous eats, from nacho lasagna to Derby-Pie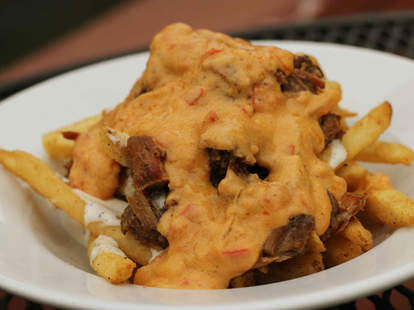 September is over and October is now upon us, and, since we all remembered to wake up Green Day, we're clearly deserving of a reward. We're talkin' cheesy, beefy nachos slow-cooked for hours, pie filled with chocolate & bourbon, and fries smothered in porky pimento cheese. Billie Joe can thank us later. We're too busy enhancing our natural roundness.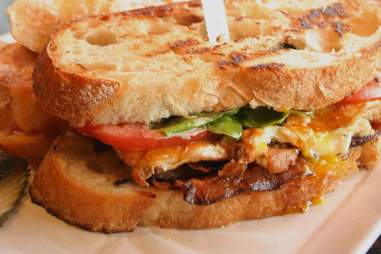 Lasco Enterprises
4. Fried Egg Sandwich
MAX's Wine Dive (address and info)
Austin, TX
Approximate calorie count: 1,323
They say don't put all your eggs in one basket, and they're right, because you should put all your eggs in one sandwich, like this one, which houses three fried, runny beauties. Of course, no egg wants to be the third wheel, so they've got applewood-smoked bacon, lettuce, tomato, Gruyère, and truffle aioli to keep 'em company, all on thick, artisan sourdough. Plus there are truffle chips on the side, because why wouldn't there be?
There really are tons of beastly breakfast sammies in Austin...
Sebastian Davis
3. Boss Hog
Villains Wicked Heroes
(
address and info
)
Atlanta, GA
Approximate calorie count:
1,455
If you consider fries with some melted American cheese on them to be an adequate side or snack, you're selling yourself short. This pile of shoestring fries is
covered in ranch, "pork scraps", and hot, gooey pimento cheese
for some serious Southern-style gluttony. Your local diner's disco fries will never taste the same again. But feel free to bump some Bee Gees while you eat, if it makes you feel better.
Atlanta also has a whole bunch of other beautiful bar snacks to offer...
2. Derby-Pie
Kern's Kitchen
(
address and info
)
Louisville, KY
Approximate calorie count:
5,254
(whole pie)
The official recipe for this dangerously decadent dessert is truly a secret, but you should be content knowing that
chocolate chips, walnuts or pecans, Kentucky bourbon, butter, and sugar are the primary ingredients
baked into the flaky pie crust. That being said, since you now know that, we wouldn't stop you from posing as a long-lost member of the Kern family just to get in on the secret. As long as you share it with us.
But be sure to save room for the rest of Louisville's iconic dishes...
Drew Swantak
1. Slow Cooker Nachos Lasagna
Thrillist
Approximate calorie count:
5,778
Uneven cheese & topping distribution on nachos is something straight out of an
Are You Afraid of the Dark?
episode, and that show REALLY scared us. But we shall be scared no more, because this slow-cooker nachos lasagna is the answer to everything (literally everything... like you won't have any more problems, probably). This thing is tortilla chips layered up with
shredded cheddar, refried beans, Velveeta, salsa, and jalapeños
, then cooked
slooooow
for two hours
.
And you will also be very slow after you consume all 12 cups of this. For your health.
Stop drooling and just make the damn thing already...
Rachel Freeman and a Food/Drink editorial assistant and would appreciate someone promptly sending her a Derby-Pie. It's what's best for everyone, trust her. Follow her to dreams of pie at @rachelifreeman.