It's a timeless Hollywood tradition that actors and actresses vie for Oscars by losing or gaining a ton of weight. In 1980, Robert De Niro packed on the pounds for Raging Bull and won. In 2011, Christian Bale claimed his prize for doing the opposite in The Fighter, then got another nomination last year for getting all doughy for American Hustle. This year, everybody stayed their normal size, and we call shenanigans. Take heed, soon-to-be-loser Benedict Cumberbatch: if you really want that statue, you might want to take on a role that allows you to live on a diet of donut burgers and five-cheese bacon & crab mac. Getting fat scored Renee Zellweger a nomination for Bridget Jones -- and she wasn't even British. With that accent and a paunch, you'll be unstoppable!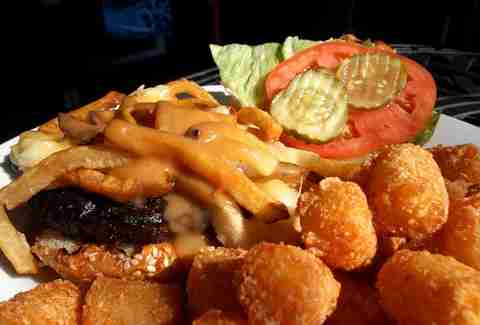 4. Henry Rollins Burger
Satellite Room (address and info)
Washington, DC
Approximate calorie count: 1,203
This burger is so damn perfect in its composition that its namesake Liar might actually give a motivational speech about it (he does that now). Piling the Holy Canadian Trinity of fries, gravy, and cheese curds (sorry, Bryan Adams) atop a 6oz patty, this thing Rises Above your typical burger to give you the best-of-both-worlds kind of experience that you deserve. We knew you didn't get that extremely original four-bar tattoo for no reason!
DC's got quite a few new burgers you better try immediately...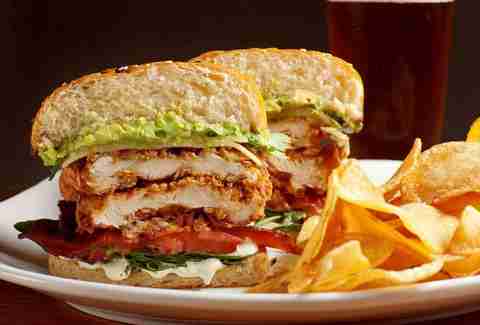 3. Fried Chicken + Jack
East Hampton Sandwich Co. (address and info)
Dallas, TX
Approximate calorie count: 1,333
What happens when you stuff crispy Southern fried chicken, pepper Jack, bacon, avocado mash, greens (huh?), and jalapeño-cream sauce into a sandwich? This happens. And no other happening will ever compare. Not even M. Night Shyamalan's. We're as shocked as you are.
Dallas can do more than BBQ. Their sandwich game is on lock, too...
2. The Luther Burger
Crave Real Burgers (address and info)
Various locations, CO
Approximate calorie count: 1,539
Fun fact: the Luther Burger is allegedly named for Luther Vandross, and, if that's true, it explains why his voice is so buttery smooth. This beef patty comes with a fried egg, cheddar, and bacon on top, and all that is sandwiched in the middle of two glazed donuts. Usually we don't let anything come between us and our donuts, but for this burger -- and for Luther -- we'll be glad to make an exception.
Colorado has a serious wealth of delicious, bunned beauties...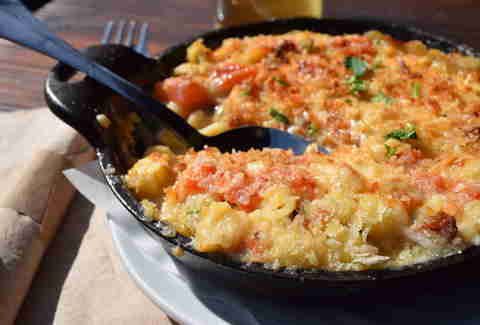 1. Loaded Mac & Cheese
Franklin & Company (address and info)
Los Angeles, CA
Approximate calorie count: 2,149
Swiss cheese. Smoked Gouda. Provolone. Mozzarella. Crab. Smoked bacon. Parmesan crust. And tomato (for health!). Yes, that's a list of all the ingredients that go into this steaming cast-iron skillet of gluttony and glory. Considering we stick to a strict three-cheese minimum when it comes to mac -- and just generally -- this dish didn't even need the bacon & crustacean to win its way into our stomachs. But they definitely don't hurt. Except for after we ate it.
If you need a mac & cheese fix, you best get your butt to LA...
Rachel Freeman is a Food/Drink editorial assistant at Thrillist, and plans on the immediate purchase of a cast-iron skillet to recreate this magic. Follow her to the cheese aisle: @rachelifreeman.