Fat Kid Fridays, September 12th Edition: 4 burritos that would win the BCS (Burrito Championship Series)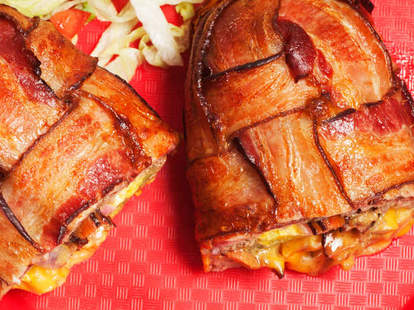 In honor of the only week this year in which we actively and aggressively celebrate that period of time when oversized sweatpants were an acceptable form of going-out attire, this Friday of big-boned children is putting a spotlight on the most college of all foods outside of Easy Mac: the burrito. Come ogle everything from a cheeseburger version to one filled with ramen, that other collegiate staple. Then you might want to put those sweatpants back on... you could earn the freshman 15 just looking at these.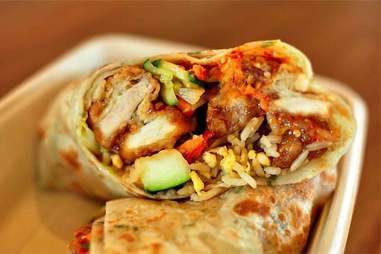 Panda Express
4. Orange Chicken Burrito
Panda Express Innovation Kitchen (address and info)
Los Angeles, CA
Approximate calorie count: 930
Few things scream "I spent considerable time at a bar falling in love with Midori" better than a burrito filled with chow mein. And since we're pretty much the biggest fans of Midori, we're also very into this bundle of fried rice/Asian noodles, orange chicken, and spicy papaya salad wrapped up in a scallion pancake. It's all your favorite Chinese take-out hangover cures in one convenient package, so you don't have to trouble yourself with choices... or forks.
This is basically the Chipotle of Chinese food, and we love it...
3. Ramenrrito
Presstea (address and info)
New York, NY
Approximate calorie count: 1,294
The only way to make Cup Noodles better/infinitely less healthy is to layer it burrito-style with a thick blanket of melted Jack and cheddar cheeses, tangy BBQ and chipotle sauces, greens and onions and corn -- because you aren't eating those veggies anywhere else -- and slow-roasted pulled pork. You could just dump all that in the Styrofoam cup after you microwave it in your dorm, but the burrito route just seems like the smarter vehicle, and you, college student, are smart. Plus, slow-roasting a pork butt in a dorm room will probably get you in trouble.
Or you could get the Ramenrrito with steak, chicken, and pulled pork mixed together...
Sara Norris
2. Quesarito
Chipotle
Approximate calorie count: 1,500
In addition to spitting you out as a well-bred 22-year-old who knows his way around the cheap booze shelf at the liquor store, college also teaches you efficiency and convenience. And what better reps that than a quesadilla wrapped around a burrito wrapped around all the Chipotle happiness you need to pack a day's worth of calories into one beautiful, guac-coated, barbacoa-filled, cheesy bundle. And it's off-menu. So you can feel classy ordering it on a date.
Secret menu items are so much more exciting than the regular lineup...
Drew Swantak
1. Bacon Cheeseburger Burrito
Thrillist
Approximate calorie count: 2,225
The bacon cheeseburger burrito is the porky beauty of drunchie dreams -- partially because college is the ultimate time to be fat, but mainly because there are four bacon cheeseburgers bundled inside this beautiful bacon-weave wrap. It's the burrito equivalent of a PhD candidate. Fitting, since you'll want to see a doctor afterward. 
To help you reach your full college eating potential, here's how to make this... 

Liz Childers is an Eat/Drink editorial assistant. She is unsure why all burritos don't have noodles instead of rice. Follow her to more carbs: @lizchilders1.