Fat Kid Fridays, September 5th Edition: The week's most ridiculous eats, ranked by calorie count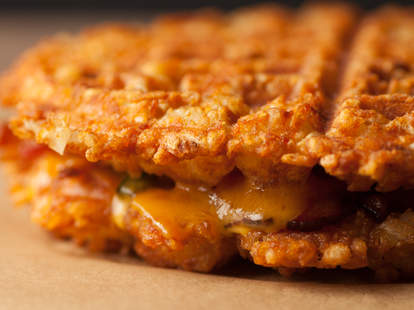 As the weather cools and you start replacing your sleeveless mock turtlenecks with the ones with sleeves and extra fabric in the belly, Fat Kid Fridays wants to help you by adding layers of caloric largesse in the form of a tater tot waffle grilled cheese, plus a 15lb bowl of poutine. Because 12lbs of poutine would just be lazy.
Matthew Meltzer
4. Footlong New Yorker
Sun Life Stadium 
Miami, FL
Approximate calorie count: 1,450
The "New Yorker dog" -- which is also what Randy Jackson answers whenever someone asks him which literary magazine has the best long-form narrative arcs -- upgrades an NYC dirty water dog into a super-sized, foot-long, one-third pounder of a sausage covered in kraut and deli mustard. While it may not resemble the ones taken down at Nathan's hot dog eating competition, it probably packs the same amount of calories, so we're not going to make any claims on authenticity.
Save room for the BBQ pulled pork nachos that're a few sections over...
Drew Swantak
3. Tater Tot Waffle Grilled Cheese
Thrillist 
Approximate calorie count: 2,552
Okay, fine, this calorie count is for the entire sandwich. And you're thinking to yourself, "Hey, I was taught to share my grilled cheese sandwiches". Well, don't. This is America, and that right there is a sandwich made of waffles made of tater tots, dammit. Eat the whole thing and then give yourself a proud pat on the back. Our forefathers fought and died for your right to eat this monstrosity.
Since you need to make this RIGHT NOW, here's the recipe...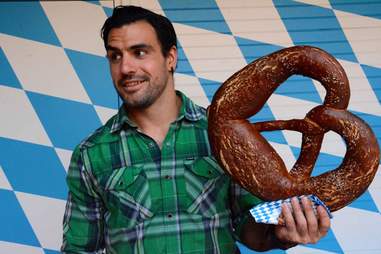 Laura Hayes
2. Two-pound Pretzel
Sauf House (address and info)
Washington DC
Approximate calorie count: 3,072
German beer halls are known for their enormous beers served by women with enormous biceps honed from carrying said steins eight at a time. But even the ever-ripped beer-hall superstar Fraulein Elsa Von Hammerquads might struggle with the addition of a platter of 2lb (!!) pretzels that you can chase with Bavarian brews in DC's newest beer garden. Prost! Now off to zee gym!
DC also just got itself fried manchego fritters. YEP. Fried manchego fritters...
1. Heart Attack Poutine
Poutineville (address and info)
Montreal, QC
Approximate calorie count: 15,300
Is there any point in eating an order of poutine if it isn't a GIANT bowl filled with 15lbs of the stuff?! Well, yes, because it's still French fries, gravy, and cheese curds. But still, this platter ups the ante on traditional poutine with chunks of sausage that help make up this hefty, glorious mass. 
We'd move to Montreal for their poutine options...
Liz Childers is an editorial assistant for Thrillist food and drink, and would marry a 15lb bowl of poutine if that were legal. Is it? Anyone? Follow her: @lizchilders1.