The Week's Most Ridiculous Eats, From a Burger Tower to Frito Pie
It's 2015, and Fat Kid Fridays is back in action. While most of you probably made resolutions to "lose weight" and "live cleanly," we can assure you that FKF did the exact opposite. That's why we're kicking the year off with a giant bowl of Frito pie, plus a burger tower that makes Pisa's look like a toothpick. A toothpick you'll need, because there's also fried chicken... on a donut. It's gonna be a good year.
Sean Cooley
4. The Sweet Heat
Do-Rite Donuts & Coffee (address and info)
Chicago, IL
Approximate calorie count: 934
They say secrets don't make friends. But who needs friends when you have this secret off-menu monster of a donut sandwich, which consists of spicy fried chicken and house-made jalapeño or maple aioli between two glistening glazed rings? This is the only friend you need from now on. Except for a cardiologist, maybe.
If you're recovering from a crazy night out, Chicago's got all the foods you need...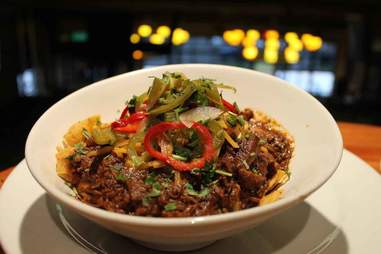 Denim Koshell<br /> &nbsp;
3. Frito Pie
Cover 3 (address and info)
Austin, TX
Approximate calorie count: 1,142
While Frito pie served up in an actual Fritos bag is cute, this heaping bowl is sexy as hell. We're talkin' secret recipe beef & queso chili (no beans, because this is Texas, dammit), cheddar, onions, house-pickled chiles, and, of course, the namesake corn chips. Everything is bigger in Texas, and you will be too.
Austin has so many other delicious Frito pies you need to try too...
Ledlow
2. Mac & Cheese Croque
Ledlow (address and info)
Los Angeles, CA
Approximate calorie count: 1,332
Because bechamel, ham, and cheese were clearly not enough, LA's Ledlow has pulled off the most glorious feat of fattening up a French classic since Gerard Depardieu by stuffing this sandwich with homemade creamy mac and brûléed Emmental cheese, then topping it with even more mac & cheese. And with that, the croque madame became the croque GODDAMN.
LA is chock-full of crazy comfort foods you should put in your mouth...
 
1. The Triple Threat Burger
Grady V's American Bistro (address and info)
Thibodaux, LA
Approximate calorie count: 3,463
Whoever coined the term "go big or go home" was definitely talking about this thing, probably. Comprised of THREE 1/2lb patties, bacon, cheddar, roasted jalapeños, caramelized onions & irrelevant other vegetables, and served with an ENTIRE POUND of fries, this leaning tower of burgers' name rings true, as it's a threat to your heart, arteries, and every other burger's pride.
You didn't think this was Louisiana's only beastly burger, did you...
Rachel Freeman is a Food/Drink editorial assistant at Thrillist, and is far too self-aware to make any kind of resolution involving less food. Follow her to MORE food: @rachelifreeman.