Fatburger introduces a burger made of... burgers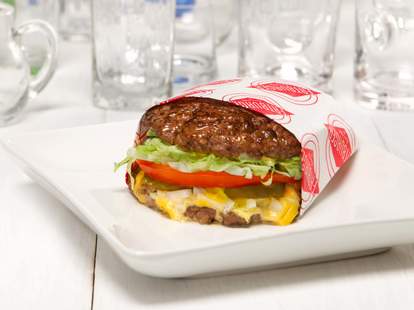 It might be time to officially mark 2014 as the Year of the Meat Bun. First KFC brought back the Double Down, then the all-bacon bun arrived just in time for the 4th, and now Fatburger has debuted a "protein-style" burger with a beef patty bun. So sorry, Year of the Horse. You never stood a chance.
The new burger launched in Fatburger's just-opened Beverly Hills location, but is now making its way to all of the chain's national outposts. It consists of two lean beef patties as the bun, with mayo, lettuce, pickles, relish, onion, and mustard nestled in between. (Of course, you can also add extras like bacon, which you absolutely should.) Fatburger is apparently trying to grab the gluten-free crowd with their latest burger, but if the Double Down fanbase is any indication, they should expect plenty of questionable tattoos.
Kristin Hunt is a food/drink staff writer for Thrillist, and patiently waits for the day when neither bacon nor cheese are considered "add-ons". Follow her at @kristin_hunt.